Icelandic Adventures
Jump to...
In this post I will give it a try at documenting the adventure that me and a friend, Sander, had around Iceland in winter. We are both passionate photographers that easily get high on sunrises and sunsets around any exciting scenery, and in this regard Iceland definitely did not disappoint. In fact I would put it as one of the most amazing trips that I have ever done, and Sander wholeheartedly agrees.
It all started with a random photo walk around the Bremen Christmas market (which btw is one of the prettiest in Germany, here is a photo I snapped then). In the summer I had already planned to go to Iceland, and had even booked flight tickets, but for various reasons it did not happen. As usual, the topic of traveling came up and I casually mentioned that I was really thinking about going to Iceland in the winter. This was especially inspired by the desire to see some Northern lights. To my big surprise, Sander was instantly hooked and on board. Somehow we just clicked on all the details about such a trip, like where we would sleep, type of photography to do, etc. So it was game on for ten days at the end of February.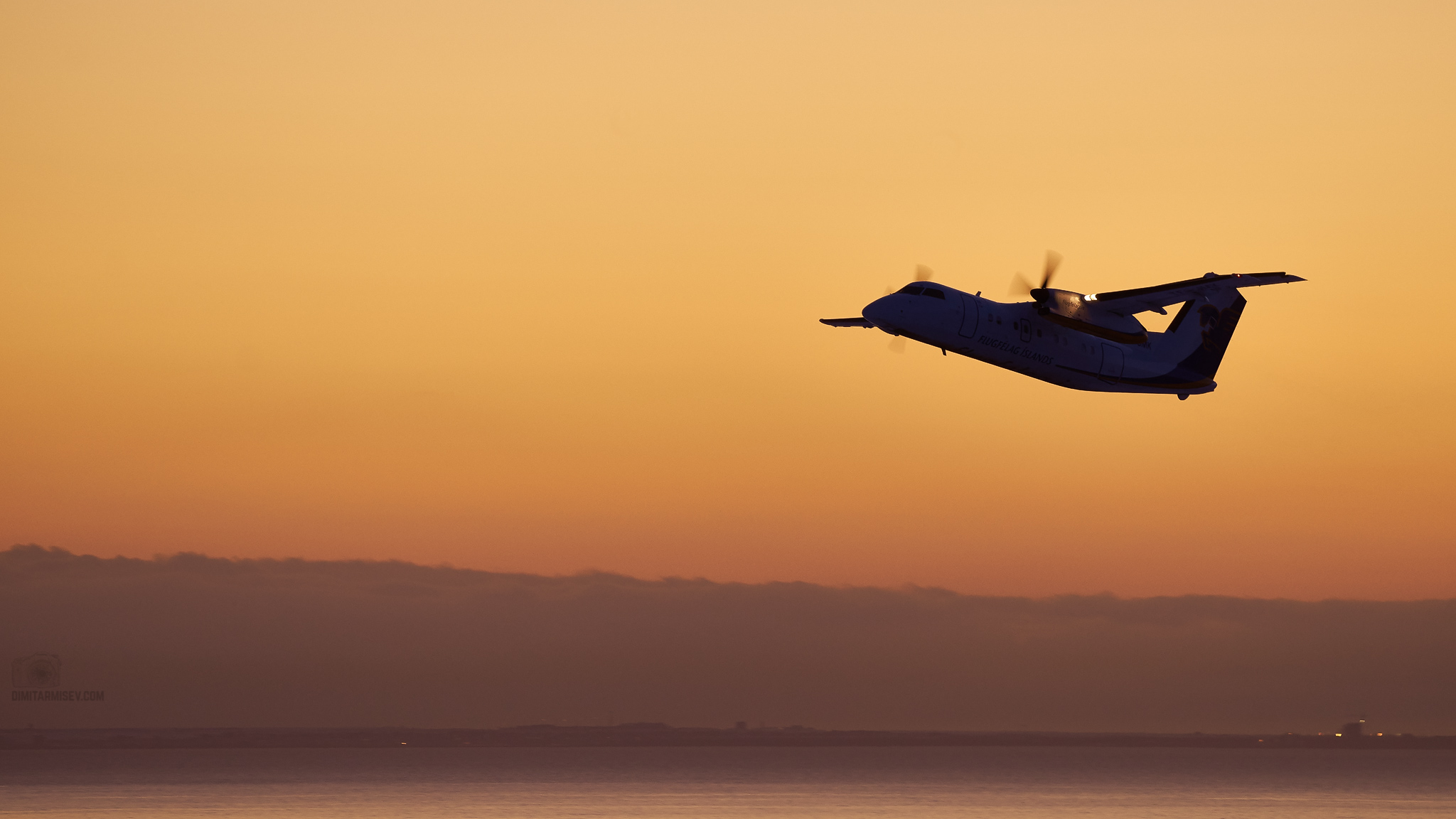 Day 1: Arrival
First stop from Keflavik airport was Reykjavik where we would pick up the tent and stove fuel, and stock up on food. Afterwards the objective was to reach the first waterfall -- Seljalandsfoss. We mistook this for Selfoss actually, a bigger town on the way. Thinking this was a waterfall we went onto looking for a camping place. Following a camping sign we a camping place that seemed to be actually working turned up. The guy was in awe when we asked to pitch a tent on the campground, replying "whoa, people usually stay in camper vans here, and only in summer!". This was the usual reaction further on throughout the travel as well. As he explained, there is no waterfall here, it's just the town, so we decided to go and camp nearby the next waterfall.
Whoa, people usually stay in camper vans here, and only in summer! Campground owner in Selfoss
We reached there already in freezing cold dark. The waterfall was actually lit up, and from far away it looked quite impressive. Close up was just ugly, with water spraying all over the place. We looked around there for a place to put the tent for the night. Now that was quite an adventure.. not yet familiar with the tent, with serious wind hitting from all possible sides, snow and rain we set it up quite flimsily. No clue how it survived and did not just fly away. During the night, worried that the tent will break apart as wind gusts one by one kept pounding on it, we packed it up all wet and tried to sleep through the rest of the night in the car. Which sucked big time.
Photo count today: zero.
Day 2: Seljalandsfoss - Vik
After the awful night the morale was down. This was a crappy welcome from Iceland that we interpreted as a warning from the Icelandic gods to not take this place lightly. The terrible morning weather continued, and was not helping the mood. Luckily by noon time things improved. After visiting Skogafoss we continued to Vik.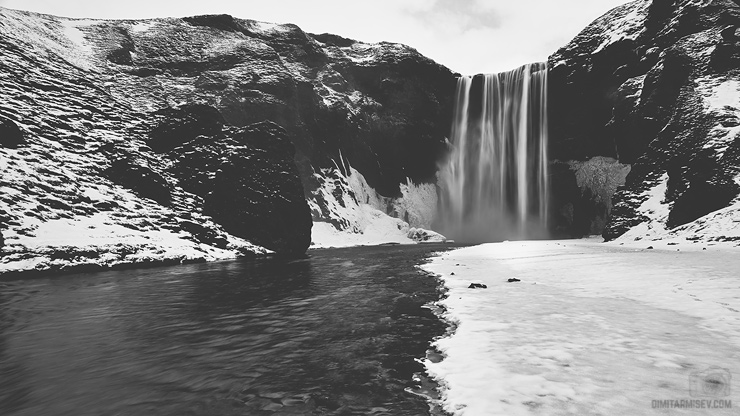 Dyrhólaey was a cool stop just before Vik, offering nice views on the surrounding mountains after an easy hike.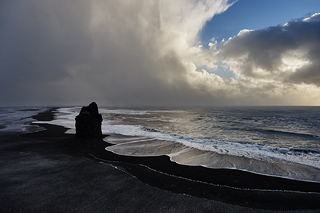 On the other side you could as well see the Reynishverfi black sand beach. These two photos show how amazingly quickly the weather changes. They are taken from approximately the same spot and direction, except the one on the right is four minutes later and more zoomed in. One moment it is snowing, the next we have lovely sunshine! It's a photographer's paradise.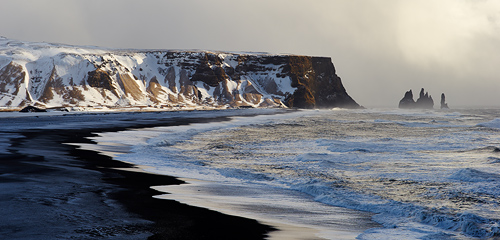 Still hurt from the previous night, we decided to look for a place to stay in Vik and skip camping tonight. We found a place that had both a hotel and a hostel. The owner lady was pretty funny. It was surprising that most places would be booked up at this time, so we asked her about it. "Oh yes, Iceland gets a lot of Chinese tourists, they like to visit at this time of the year as prices are lower". Inevitably this became an inspiration for many random jokes :-)
The Chinese booked up the hotel, but you can stay in the hostel. Hotel owner lady
As soon as we cooked lunch, we headed back to the Solheimasandur plane wreck that we missed earlier. This plane crashed in the 70s but the crew survived luckily; the plane has been simply left there, as seemed usual with broken and old stuff around Iceland. Reaching the plane turned out to be a one hour walk, because of underestimating the distance and overestimating the road condition. The road was terrible enough for walking, with plenty of ice and water to annoy you, but it seemed mostly fine for an AWD vehicle.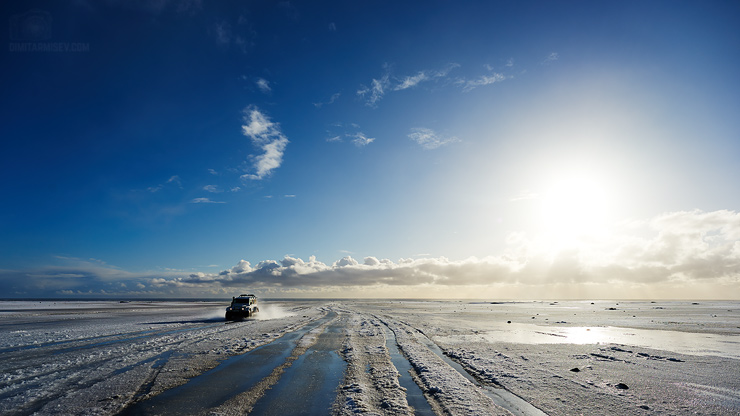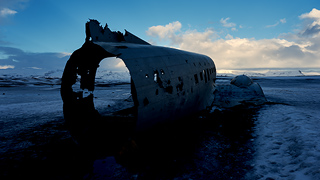 At least it was sunny and calm. The plane was meh, especially with all the tourists around. Somehow I managed to get one-two photos without any people in them.
Too tired to walk again for an hour on the flat flooded way we hitchiked with a nice couple from France, who gave us a lift back. A couple of Chinese guys in a VW Golf were stuck in the snow / ice slush and we helped them get out. I cannot decide if they were really brave or just a bit dumb to attempt that.. Here we met the French guy that we kept bumping into while driving around the island, while he seemed to be always there helping rescue people stuck in the snow. Soon we were out of there and in for dinner.
For the sunset we decided to go out to Reynishverfi. The waves were huge and there were even guards on the beach to make sure you don't get too close..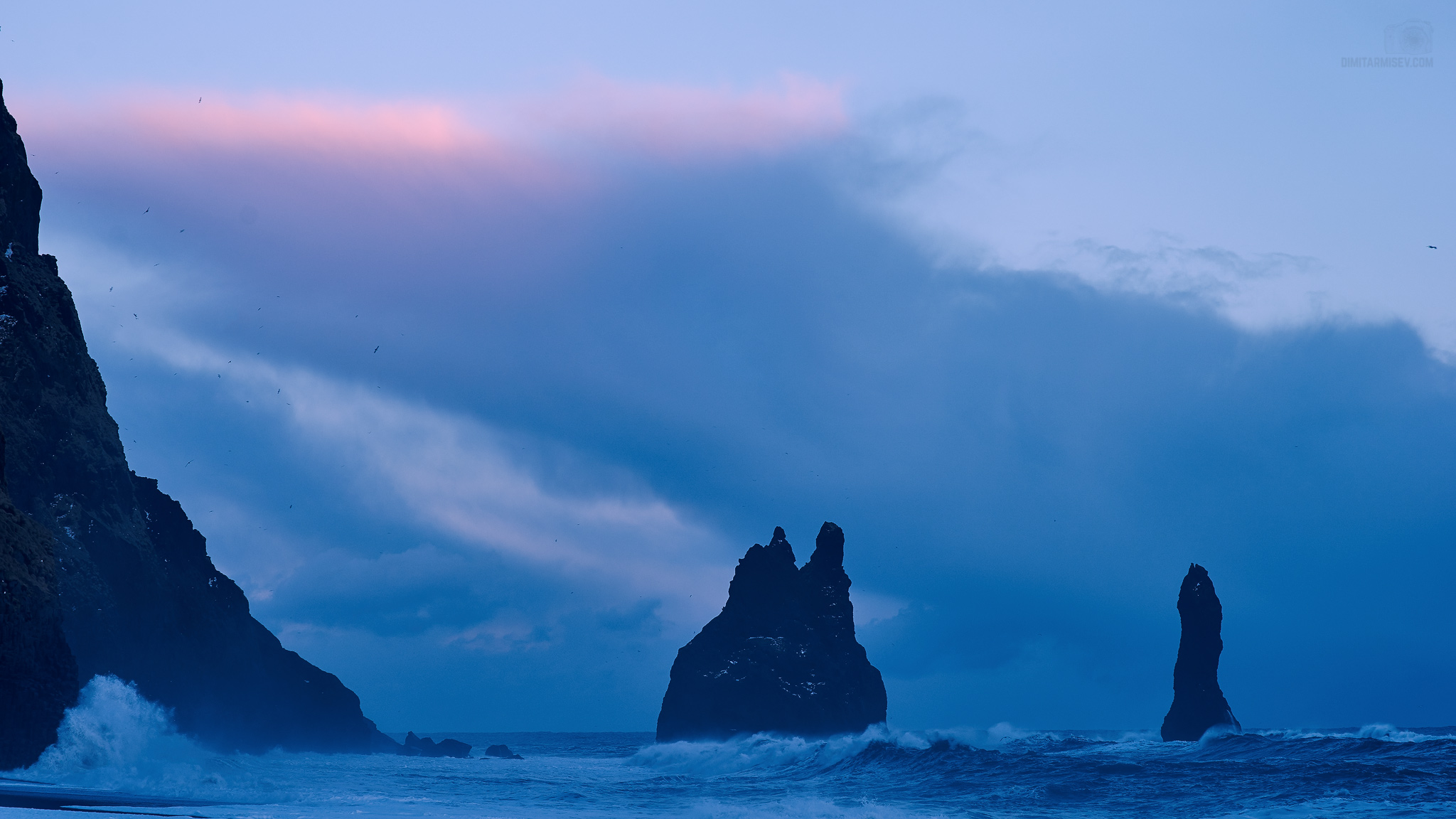 The last photo for today.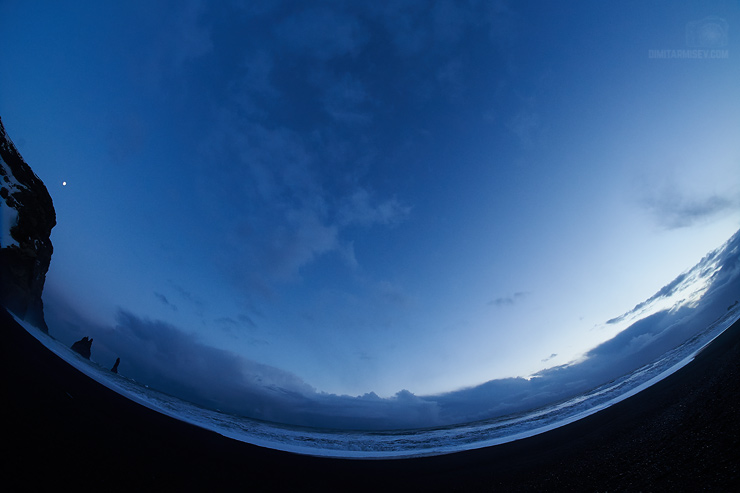 Day 3: Vik - Höfn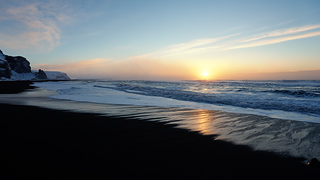 I woke up around 5 in the morning already. By 8 am we were ready to go out to catch the sunrise on the black sand beach in Vik. Half-asleep, I of course forgot the memory card for the camera as we went out of the car onto the beach. So there was some running back to the car. In the hurry I messed it up with the car keys: first I left them half way out of my pocket so that it's easier to lock later (famous last thoughts..); not only I forgot to lock the car, but I forgot about the keys altogether, and as I ran back to the beach they dropped out of my pocket. I only realized later as we came back to the car; I went back to the beach to search for them and felt such a relief when I saw Sander waving that he found them already near the car.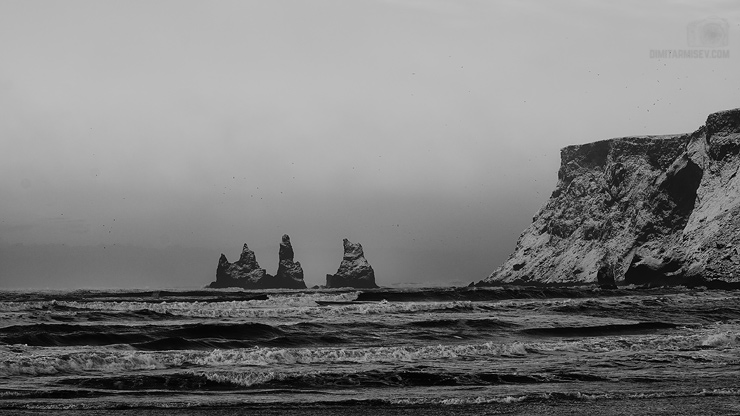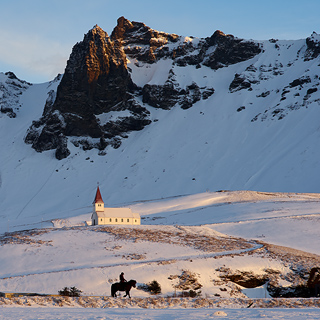 The sunrise on the beach was quite nice, although the famous rocks did not get any particularly good light. I thought it could eventually make a good contrast in b&w at least. The church in Vik was well lit however, so a few shots were dedicated to it. In perfect timing a horse rider passed just below the church.
Hungry and cold soon we went back to the hostel for a big breakfast and hot shower. Finally we packed, including the dried tent, and hit the road towards Höfn. We tried to reach Fjaðrárgljúfur (we tried hard for a while to pronounce that one, whether correctly or not), but the road was totally icy, and the weather was windy as ever, so eventually we gave up on that half way through.
Continuing towards Skaftafell we stopped a couple of times for the amazing view on the biggest glacier in Europe, Vatnajökul.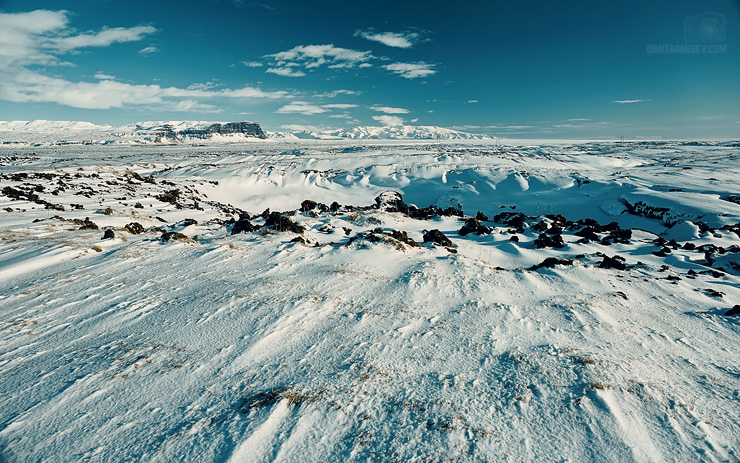 Here is a huge panorama of Vatnajökul. Just look at this beast.. glorious.

In the middle of the view is Hvannadalshnúkur, the highest peak in Iceland at 2110 metres.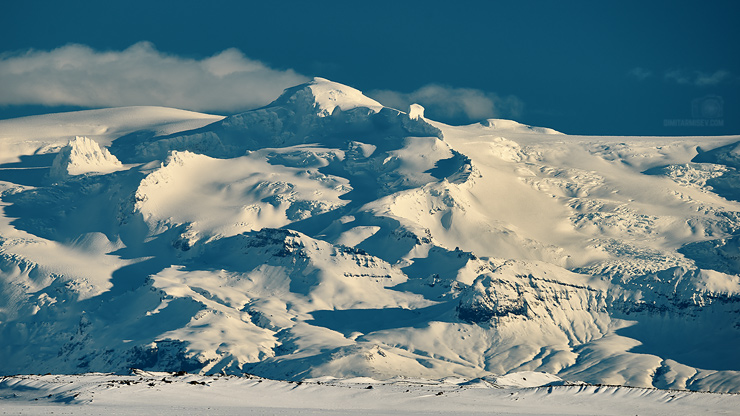 Skaftafell (Skaftafellsjökull more precisely) was just amazing, with calm and sunny weather. It was one of the most impressive places on Iceland, and so we spent quite some time around there. The huge ice blocks looked like shark teeth (or tails maybe).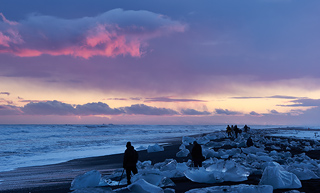 After lunch on a sunny bench there, we continued towards Jökulsárlón. Eventually we reached some lagoon, but didn't realize it's actually Jökulsárlón until we went to the beach and saw all the ice blocks spread around. There was an epic sunset, although the millions of tourists / photographers were spoiling it all a little bit. The place was totally amazing anyway, and left a lasting impression.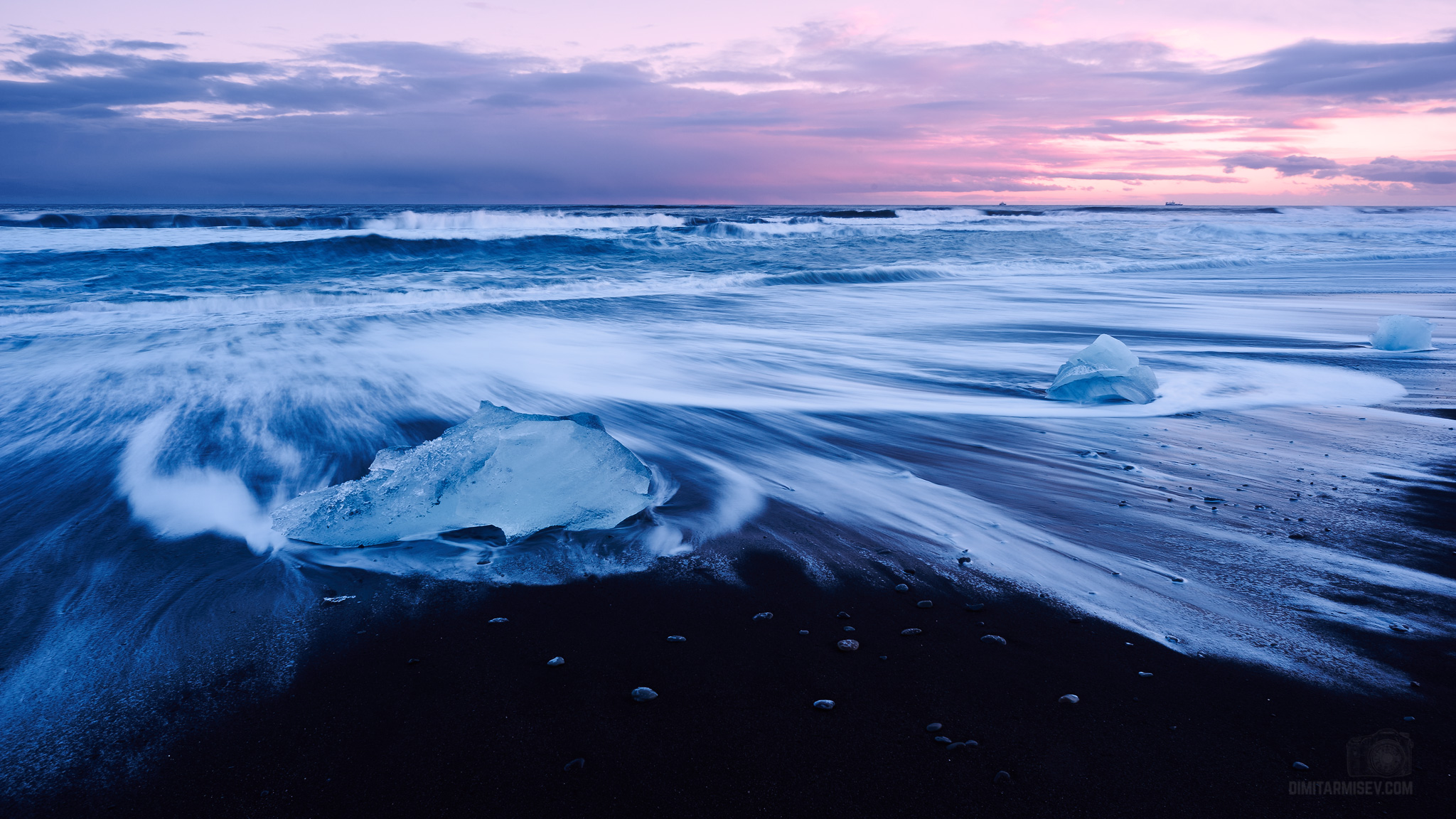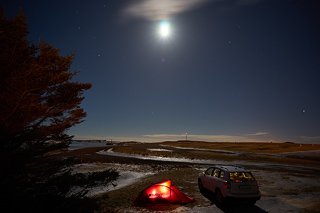 Just as the sun disappeared and all the colors were gone, we set off to Höfn, planning to stop at the first calmer place where we could camp. We discovered a nice spot for camping just as we entered Höfn. It was shielded from two sides by a small hill and was very calm and warm. We had a relaxing dinner, and then a round of photographing on the full moon. The moonlit landscape looks quite interesting, similar to daylight photos but still quite distinct. It's incredible how everything is so visible on full moon. Soon we were snoozing in the cozy tent. The calm weather didn't last long though.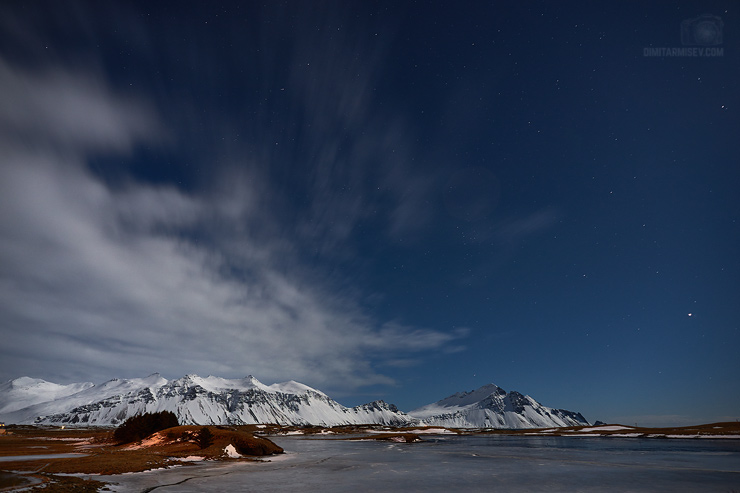 Day 4: Höfn - Egilsstaðir
A weird call from an unknown local number woke me up at 1:30 am. By the time I managed to open the phone it stopped ringing. Calling back did not work as it was busy. I spent a lot of time contemplating how could anyone call me, considering that absolutely nobody knew this temporary phone number I got in Iceland. The only option would be the network operator. But why the hell would they call in the middle of the night anyway?
Ring... Unknown bastard
The weather was really windy now, pounding the tent and making sleeping difficult. We got up at about 8 am, packed up quickly in the howling wind, and went looking for Vestrahorn. The GPS found something else I guess, as it happened so many times during the trip, so we missed it and drove for more than 40 km trying to guess which mountain in the distance looks most like Vestrahorn. Maybe it would be these ones? That wasn't it, but I really liked the mountain on the far left in any case.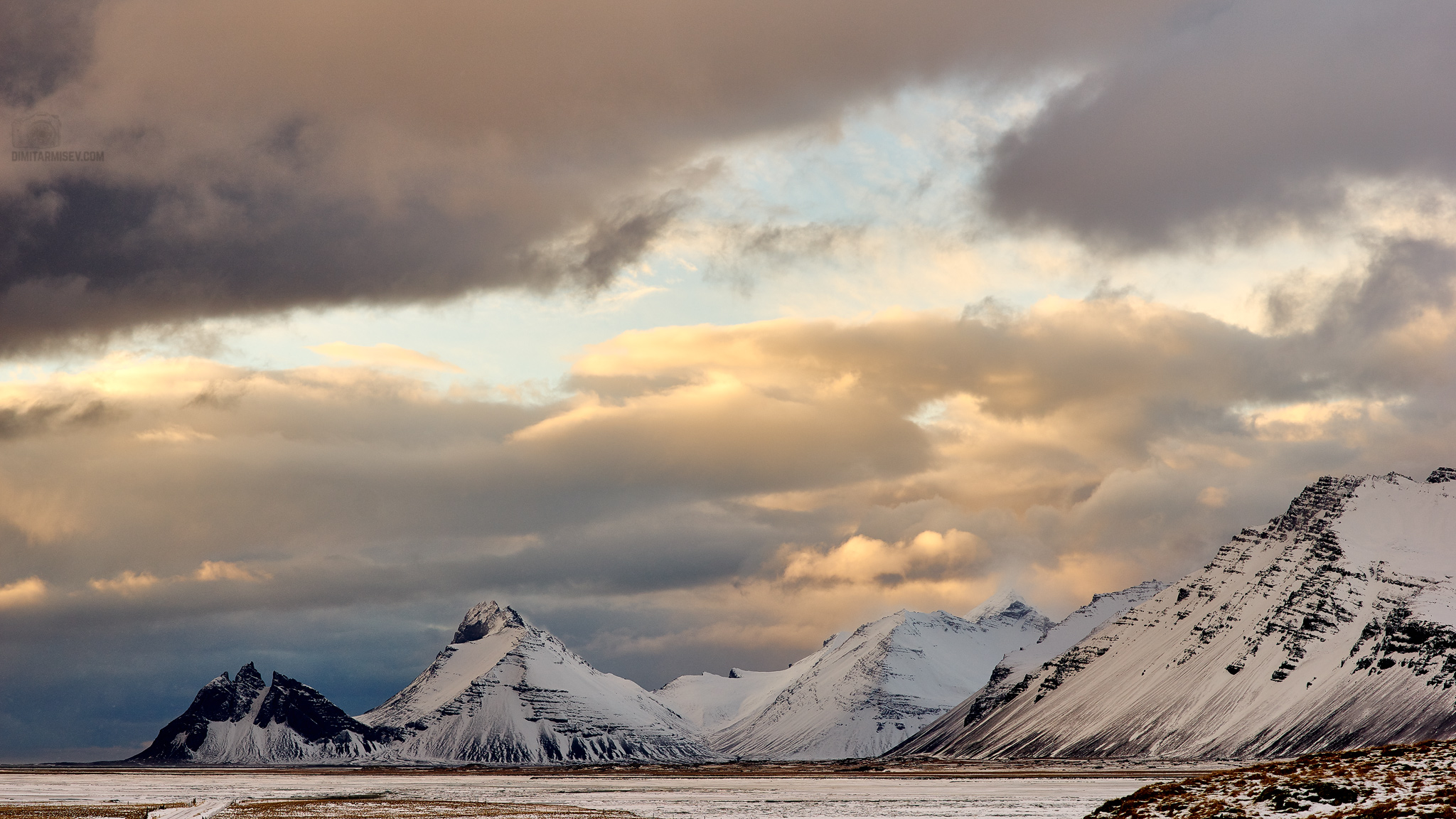 Soon we figured something is probably wrong. After some more careful searching online we discovered the place is also known as Stokksness and found some directions to it, way back near Höfn. On the way back we saw some really cool horses and stopped to have a look. Combined with the sunrise it was a gorgeous sight.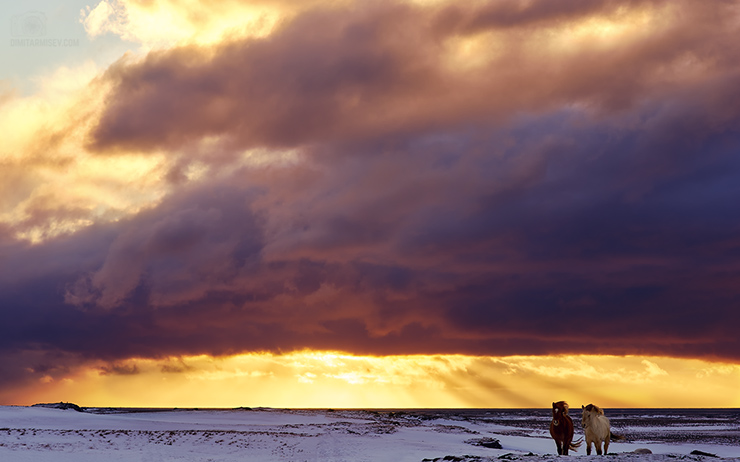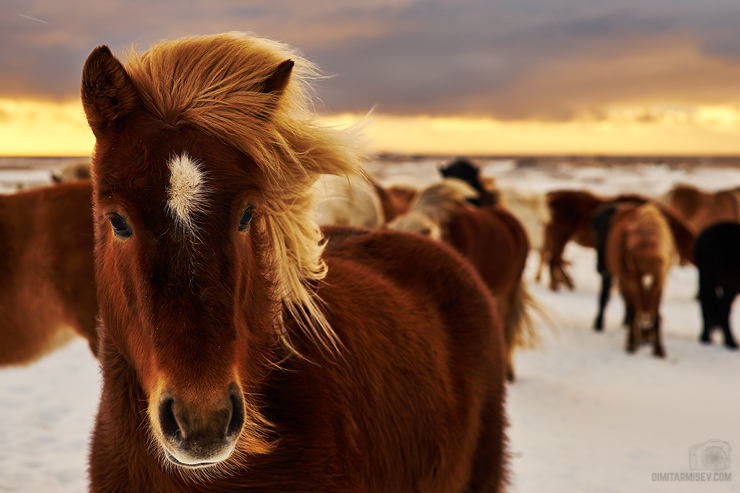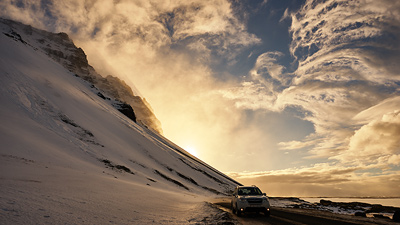 The road to Stokksness seemed extremely unsafe and dangerous, with mountains rising straight up from the road and no safety net against rockfall; rocks were all over the road. The wind was so strong and was generating a huge sandstorm. Photographing or merely going out of the car was a mess. My camera got filled up with sand / dust and some buttons and knobs got jammed, although still working with enough pressure.. Even the car was damn hard to keep in control and at some point a wind gust just pushed us and the car slid on the gravel road. Luckily I managed to stop without messing it up.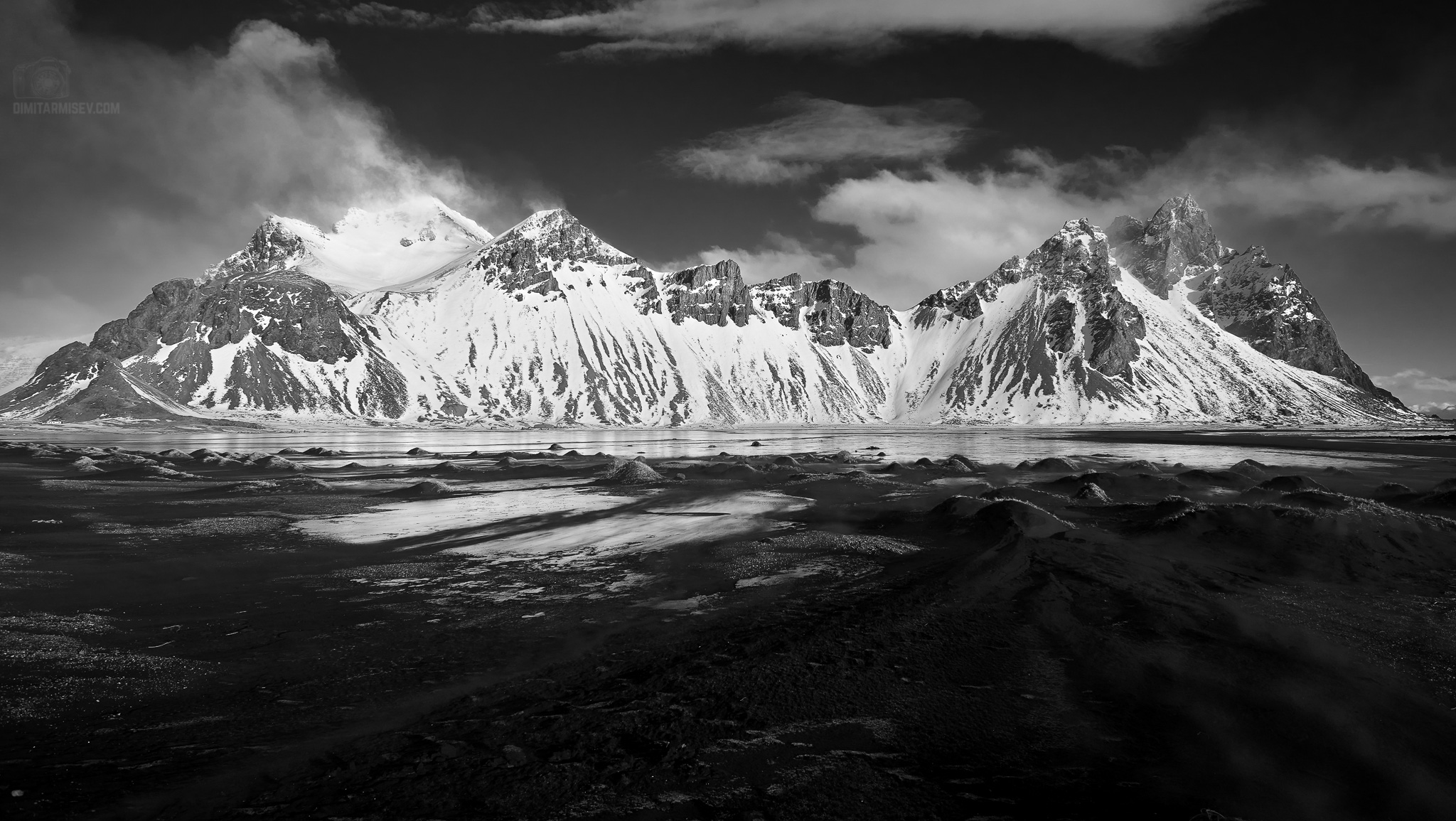 Notice the sand "rivers" on bottom right of the above photo, as well as all the snow blown off from the mountain on the top left. The wind was just insane. This was a pretty common sight around Iceland actually, whether it was sand or snow, something was usually flowing across the roads.

We got back to Höfn for some food and learned that a proper storm with even stronger winds is actually coming in this area in the afternoon. If what was already happening wasn't a proper storm.. we didn't quite want to see what is really coming. So in the end we decided to go to the North part of the island and get away from all the drama raging over here.
Before Egilsstaðir we ended up into a snow whiteout blizzard. Nothing was visible further than the car front at certain points. This was a seriously scary situation, just imagine yourself in the middle of the road completely blind. Going forward is dangerous because you might just hit whatever something; not going forward and you risk someone else hitting you from behind. Along with the dust storm, this was altogether one crazy day. A car overtook us (I assumed a local guy) and following it made things easier, until we got out of the blizzard about half an hour later.
As we reached Egilsstaðir we switched a bit with Sander for the driving. The goal was to go towards Mývatn and stop somewhere there. However at some point the road was simply blocked -- you can still continue but at your own risk. After contemplating we decided to give it a try, but 100m later we found out why it was blocked -- piles of snow was all over the road. It hasn't been cleaned at all. We tried some road around but eventually that failed as well. Then I found out about the road conditions map for Iceland, and at that moment all roads going to Mývatn were marked as impassable. There was no other option but to go back to Egilsstaðir.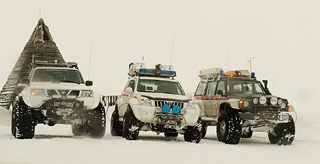 We stopped at a hotel near where the road was closed to check if we could stay there, and quite soon a couple of huge rescue monster trucks showed up from the blocked road, carrying Chinese guys that presumably got stuck in the blizzard on the impassable road. The drivers lined up the monsters so they can take some photos and selfies haha, so I took one as well :) The rescued guys would stay the night in this hotel; we wouldn't though, it was a crappy yet expensive place. We went back to Egilsstaðir and managed to find a nice guesthouse for the night, leaving the tent for another day. The owner encouraged us that the road will probably be cleaned by tomorrow, as many people need to go to work to Akureyri.
Day 5: Egilsstaðir - Akureyri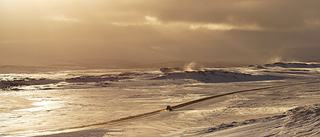 I was sorting out some photos before breakfast. The online roads map showed the road as cleared! We were quite lazy and late, getting out of the guesthouse last after all the Chinese had left. "We would anyway quickly catch up with them on the road."
The morning was fantastic with the sun rays and wind blowing the snow over the road and the landscape.

This quickly got quite problematic as we went up the mountain though..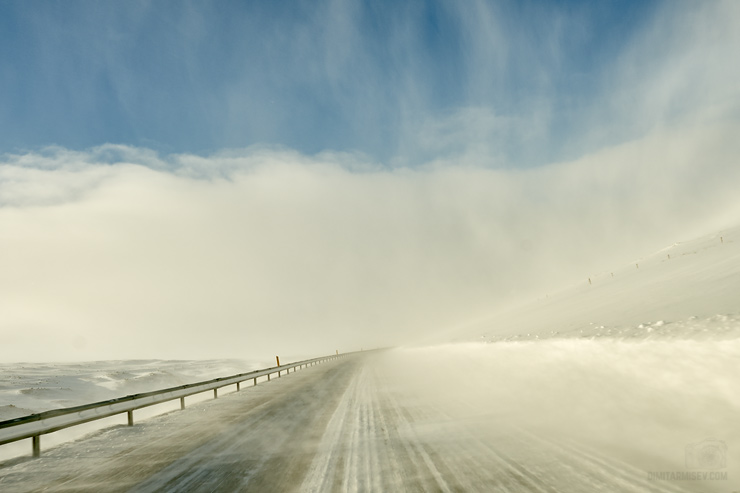 You are already the second car we pulled out this morning. Nice helpful Icelanders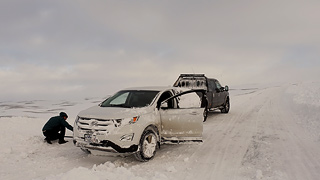 Wanting to stop for some photographing, I managed to get stuck with the car as it dug deep on the snow on the side of the road. Luckily some local guys in a monster truck stopped immediately to help us get out, and basically we were stuck for less than 5 minutes. Apparently we were not the first they stopped to help this morning already. Anyway, from that point on I was ultra paranoid about stopping where it is unclear how much snow there could be.
Soon we came across one of the guys that was rescued yesterday as he was trying to pull his car out of the snow, so we helped with some pushing. Funny how the snow plow truck just went around his car and left it in the snow in the middle of the road, clearing up only the other lane..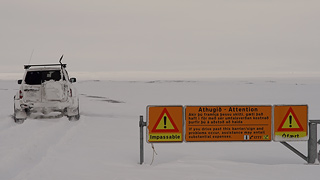 At some point the landscape got pretty flat and boring, even though it was higher up in the mountains. The road to Dettifoss was not cleaned up and hence closed, but we nevertheless stopped at the entrance of the road just to take some photos. A tour guide approached us and started asking on what are we doing, dying to be explicitly clear that "yes you can go to Dettifoss, but not in that car". Right, thank you so much for overstating the obvious. Further along the way just before Mývatn, some smelly spot popped up, spewing out gases from the ground.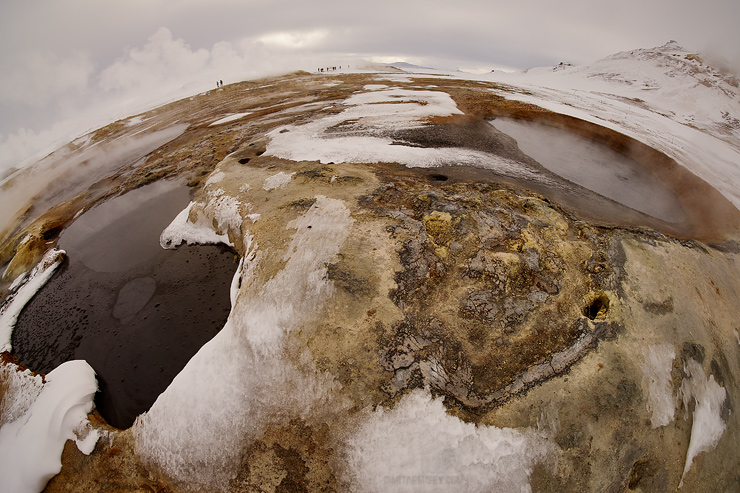 Then we reached Mývatn. At first it seemed like a boring place, but soon we came along some nice landscapes including the rare forest, and sun.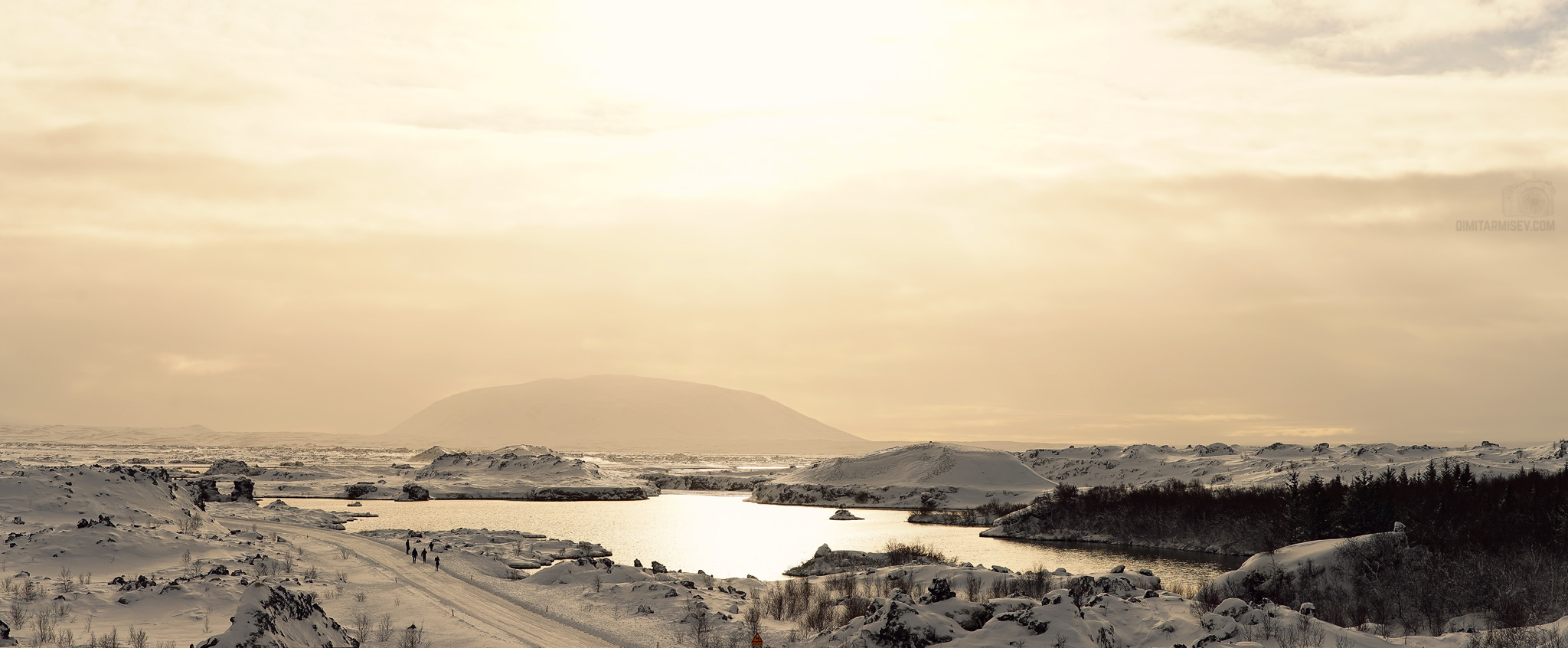 We continued towards Godafoss, hoping that this one is visitable without monster trucks unlike Dettifoss, and comforting ourselves that it anyway looks a lot better on photos. Which turned out to be quite true, although the highly expected sunset was disappointingly boring and just all around crappy.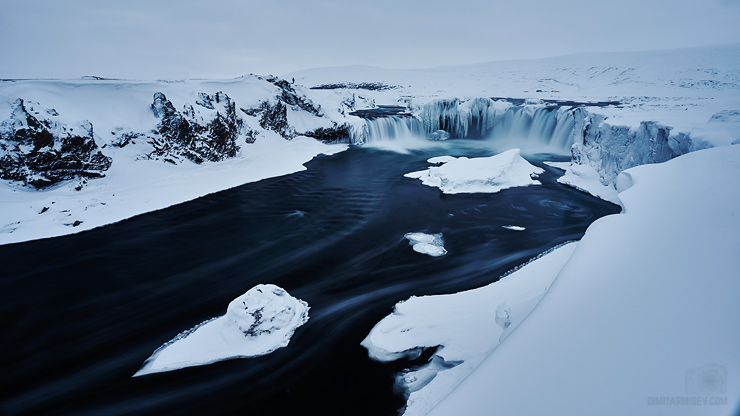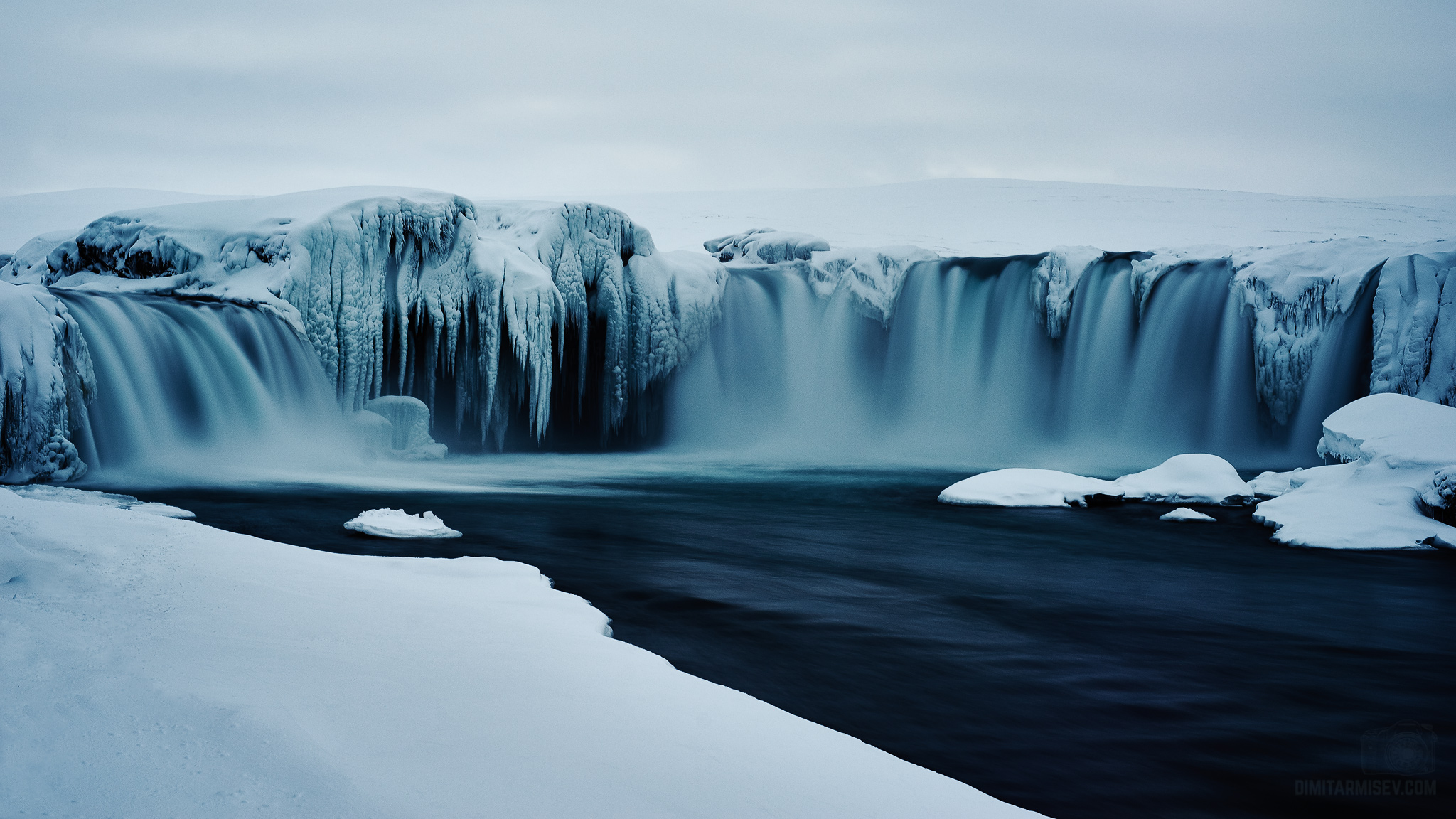 So after all our gear, clothes and everything was frozen up by the water spray from the waterfall, we went on to looking for a camp place. This was rather unsuccessful. Eventually we reached Akureyri to discover that the campgrounds have been abandoned for the winter, so we settled down for a nice hostel in the center of the city. One last photo of Akureyri (on the left) below. Looking forward to tomorrow!

Day 6: Akureyri - Kirkjufell
The morning light was pretty nice coupled with the scenic mountains around Akureyri, and we stopped a couple of times for photographing.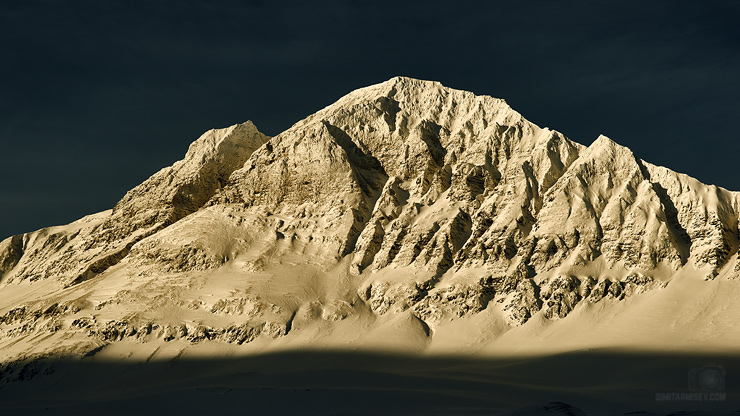 Sander took over the driving today so it was mostly a sleepy day for me. The drive to Kirkjufell was relatively uneventful, interrupted only by the odd section of gravel road. We did come across some interesting sky for a brief moment as we entered the Snæfellsnes peninsula.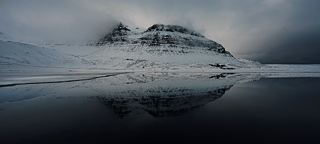 Kirkjufell didn't seem particularly photogenic at first. After some exploring around and discovering calm pools of water offering amazing reflections, our opinion quickly changed. It was one of the coolest places on Iceland, despite the grey cloud cover hanging around. Below is Kirkjufell from the side; we thought this is not exactly the best angle of the mountain, but the almost perfect reflection made up for it. On the right is another mountain opposite of Kirkjufell.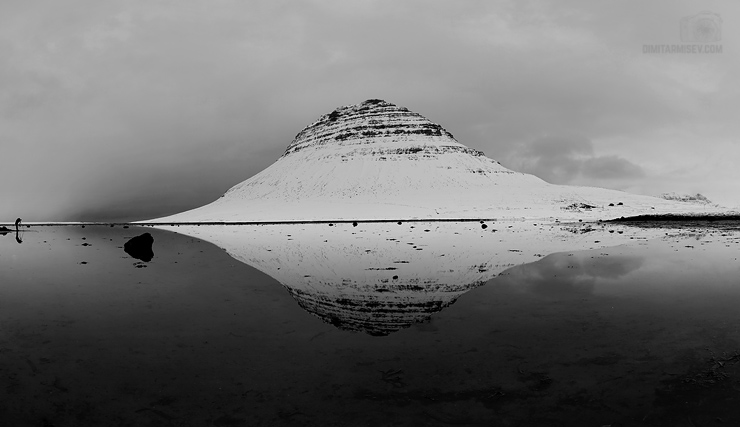 Seeing the aurora above Stokksness was unreal.. psychedelic mushroom type of experience. Beardy Dutch photographer
We met a photographer that was similarly camping with a tent; it was easy to get a bit jealous as he showed a photo of the Northern lights above Vestrahorn / Stokksness. At the same time I got a bit pissed off as well, as he kind of rudely insisted that "sorry guys, but you won't see any auroras while you are here". Shut up dude, you can't know that. He warned that supposedly it will be first wet (above zero) in the night and then -10 C (??), so it's a bad idea to camp as the tent will freeze by the morning. We thought that didn't make so much sense and sticked to our plan to camp tonight.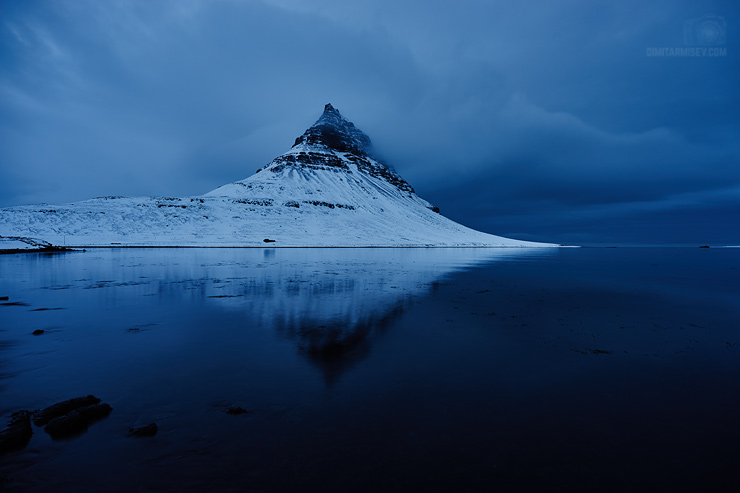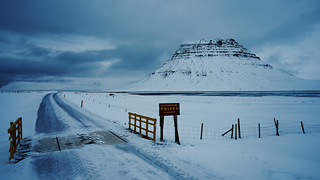 We wandered quite a bit around, as the GPS took us to weird places in Grundarfjörður and around that were supposed to be camping grounds. At some point we took a side road behind Kirkjufell to check out where it goes and ended up at a prison entrance :)) In the end we just decided to put the tent right in front of the mountain, with a nice view of the city Grundarfjörður as well. Pitching the tent was quite difficult, wet snow combined with frozen beach.. but eventually it worked out. Across the road we had some company from a big camper van.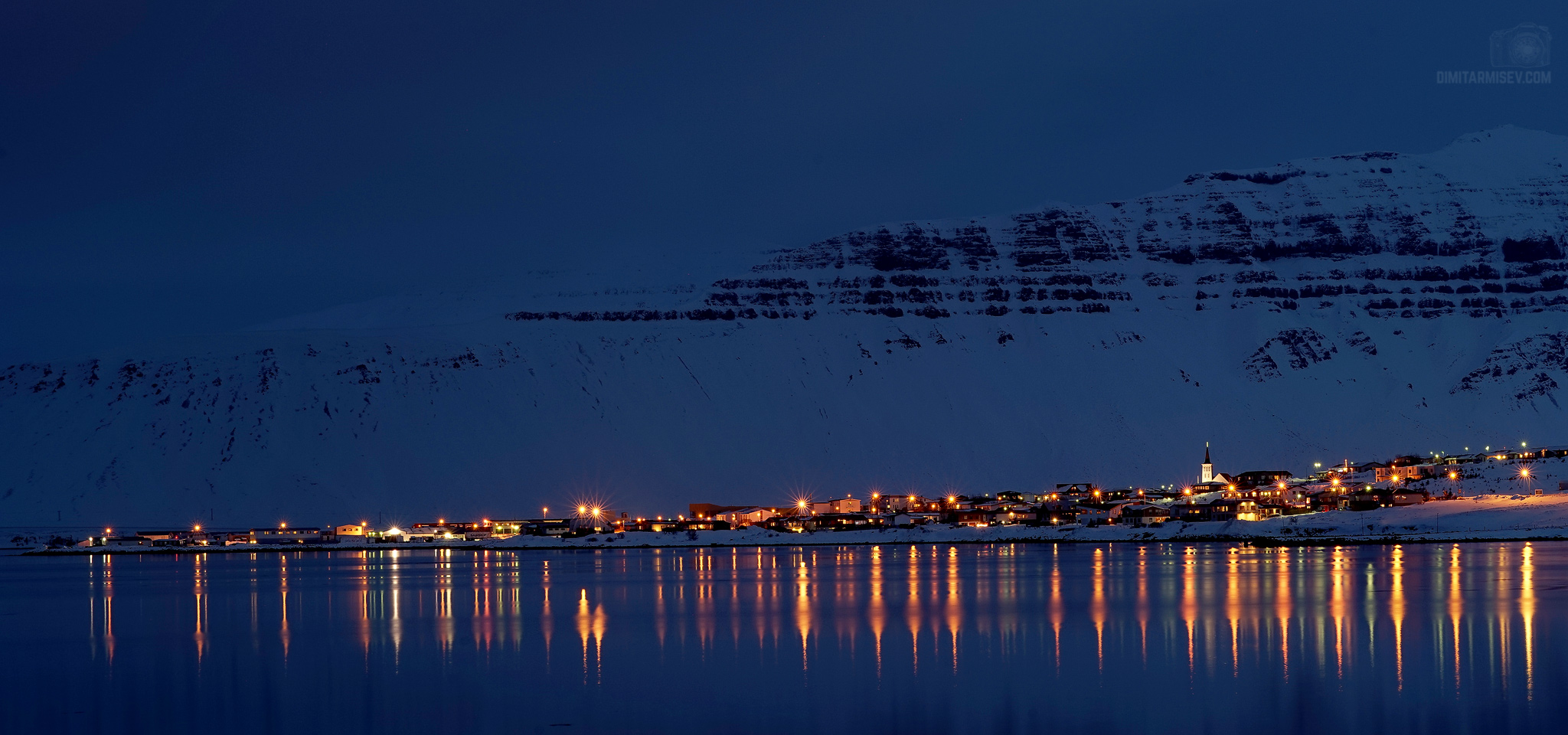 Day 7: Kirkjufell - Flúðir
The morning was as boring as the evening regarding the weather conditions. Before sunrise we took a few photos of the mountain including Grundarfjörður as well, as it was casting an interesting light on the clouds above.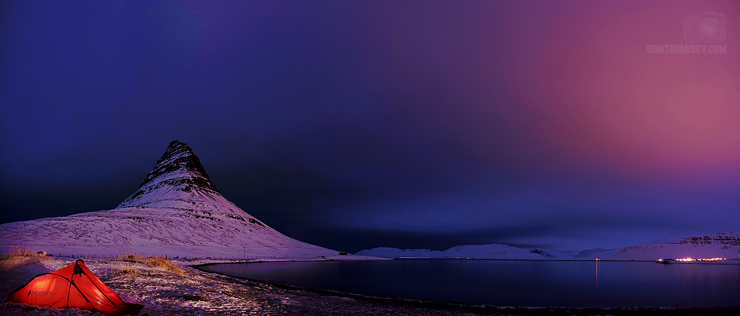 Then we checked out again the nearby waterfall which was totally frozen up. The river was still flowing underneath all the ice though. This is an iconic view photographed to death, but I guess it just doesn't look that good when it's all frozen.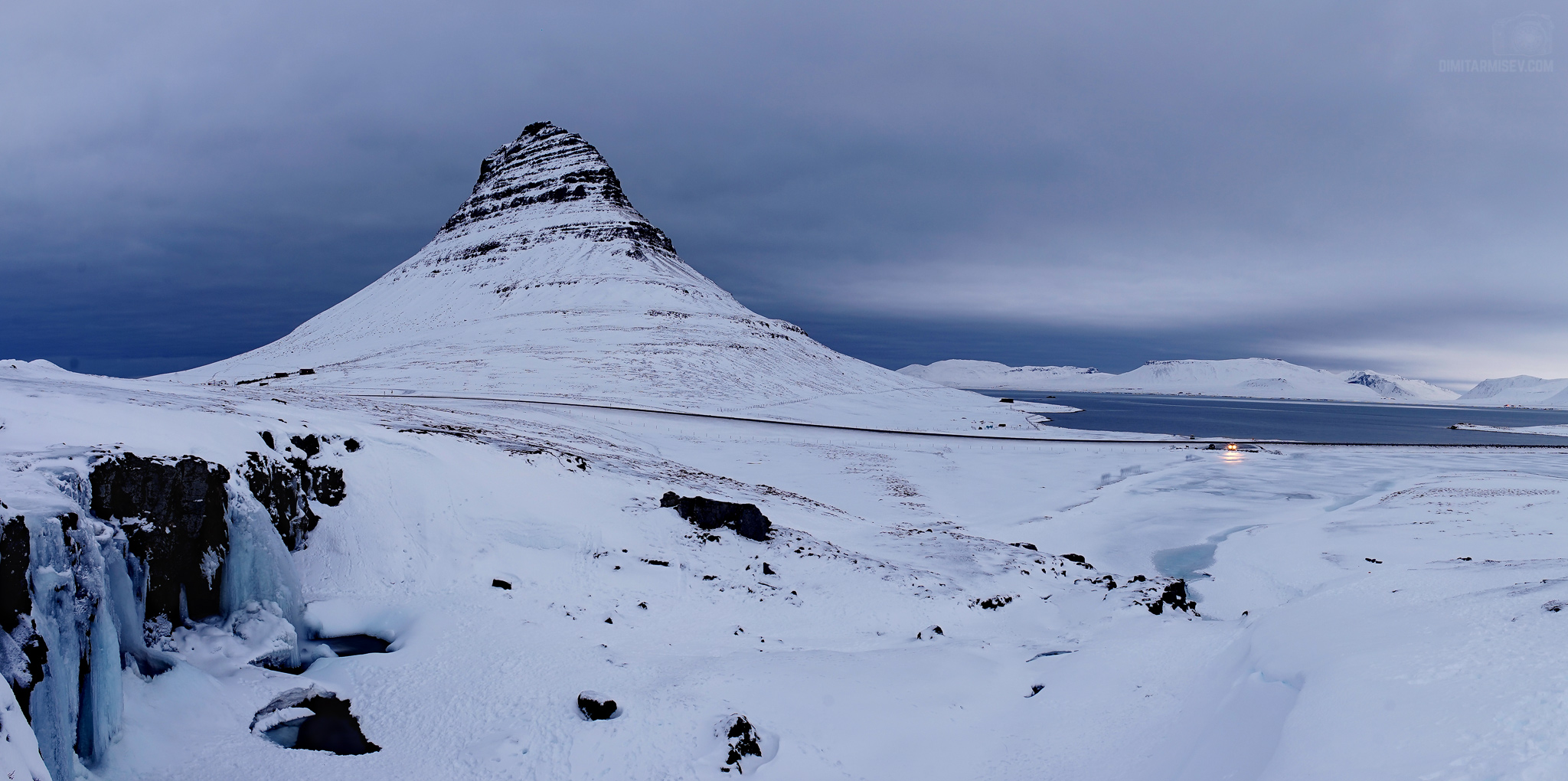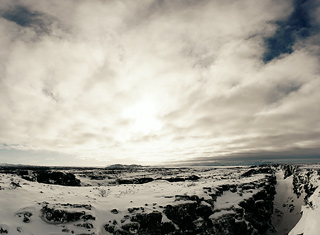 Soon thereafter we set off to the Thingvellir national park and the Golden circle attractions. Yet another boring drive all the way til Thingvellir. The highlight was seeing Reykjavik in the distance at some point :) Once we reached the national park the sun slowly started to come out. Instead of Öxarárfoss as planned, we found a yet another frozen waterfall humming under the ice. The photo on the right shows the way to the waterfall (the hole on the right), which was totally flat even though some guys we met on the way insisted it was a lot of climbing and so they did not even go all the way to the waterfall. On the other side, across a frozen lake there was a nicely lit mountain landscape.
And then bam, Geysir! We were totally unprepared for this place.. I mean, we haven't seen that many people at one spot since we started the trip, it was quite a shock :) Apparently the Golden circle is the most popular touristic attraction on Iceland. The Geysir was mostly boring, you wait wait wait, until the Geysir gets super excited for like 2 seconds.. then all over again. At some point I realized it comes out exactly every 10 minutes.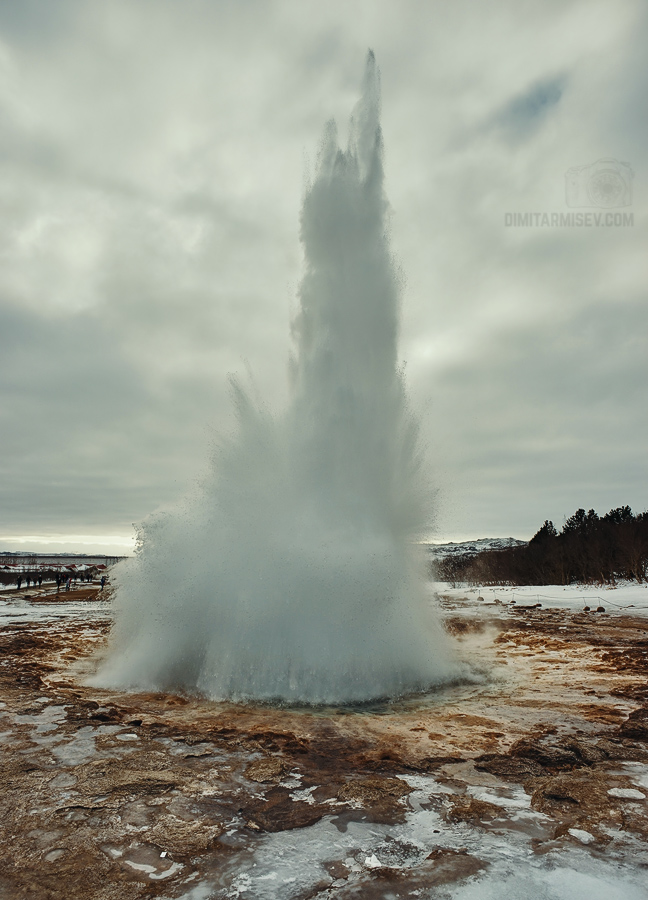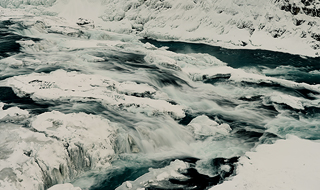 Maybe the geysir and all the other water coming out at this place was boiling hot, but that didn't help us in any way and soon we were totally freezing. So there wasn't much mood for exploring too far around and we just continued to Gullfoss, or the Golden waterfall. This was a huge waterfall sprawled over several levels, which made it difficult to get a good vantage point for a photo. The paths that allow you to get closer to it were closed as they were probably full of ice. Well at least it wasn't completely frozen and was running just fine. All the snow and ice make it a bit hard to distinguish what is a waterfall and what isn't though, but I'm sure you could find some beauty in this eventually ;)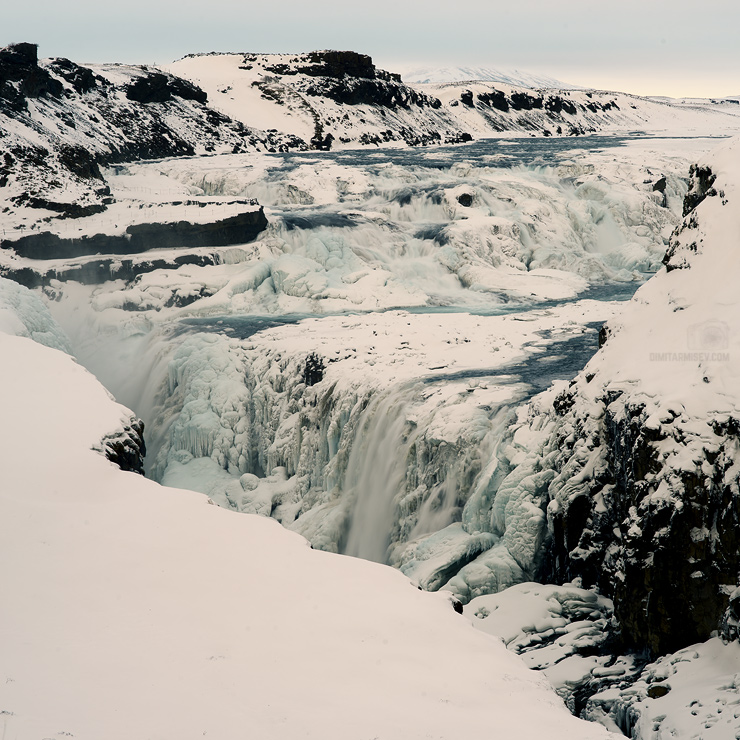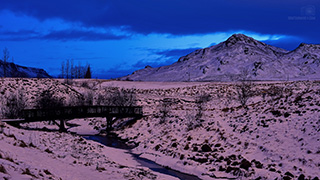 For the night we ended up in nearby Flúðir. Unfortunately we were too late for the supermarket which seemed to have closed at 18:00, but were just in time for the dusk time when the sky slowly cleared up.
And hey, it turned out the guesthouse where we stayed had a natural geothermal pool in the backyard! So then we could stay under the clear starry sky while sitting in a hot pool, it doesn't get much better than this.. all that was missing was some beer (damn super-early-closing supermarket).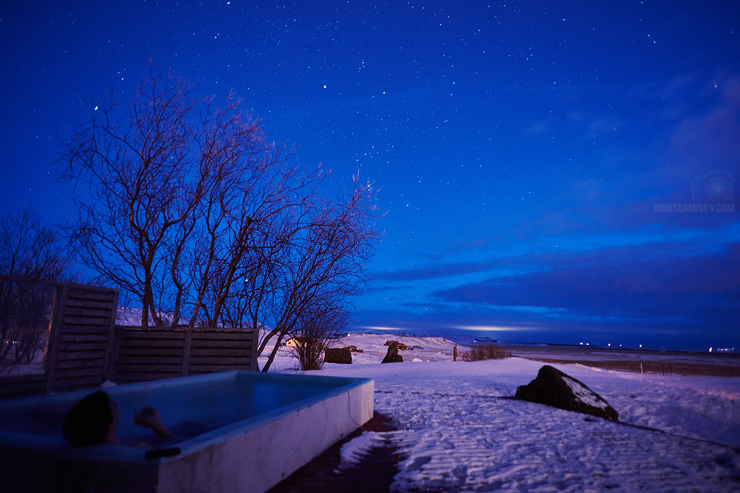 Day 8: Flúðir - Vik
There was quite some uncertainty about what to do next, where to go. We were running out of ideas and options. Eventually we decided to go back to Vik again, as this was a nice area not so far away. Many places with horses came up along this road, and we couldn't help but wonder why are horses so popular on Iceland. We only saw people riding horses in a pretty funny gallop a couple of times.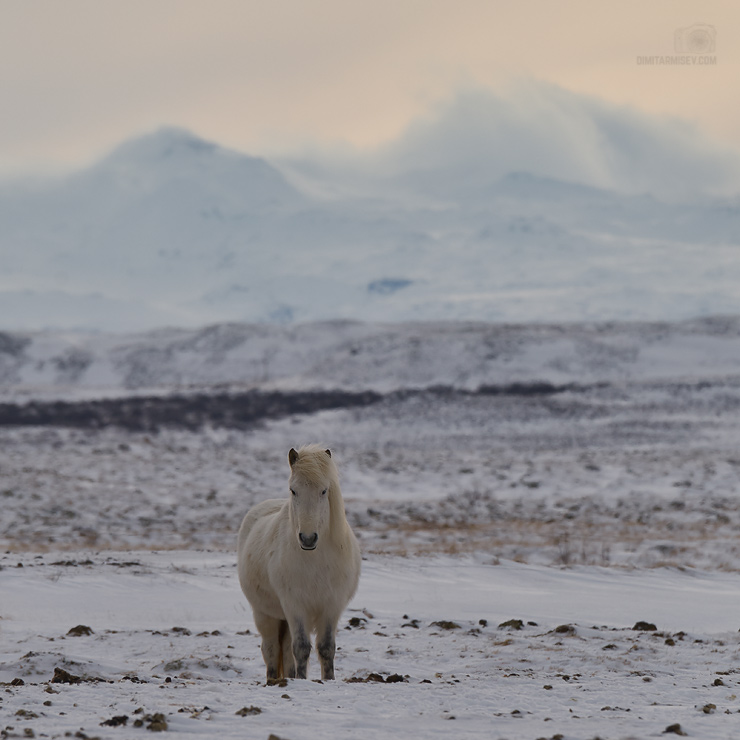 Soon we noticed Seljalandsfoss in the distance.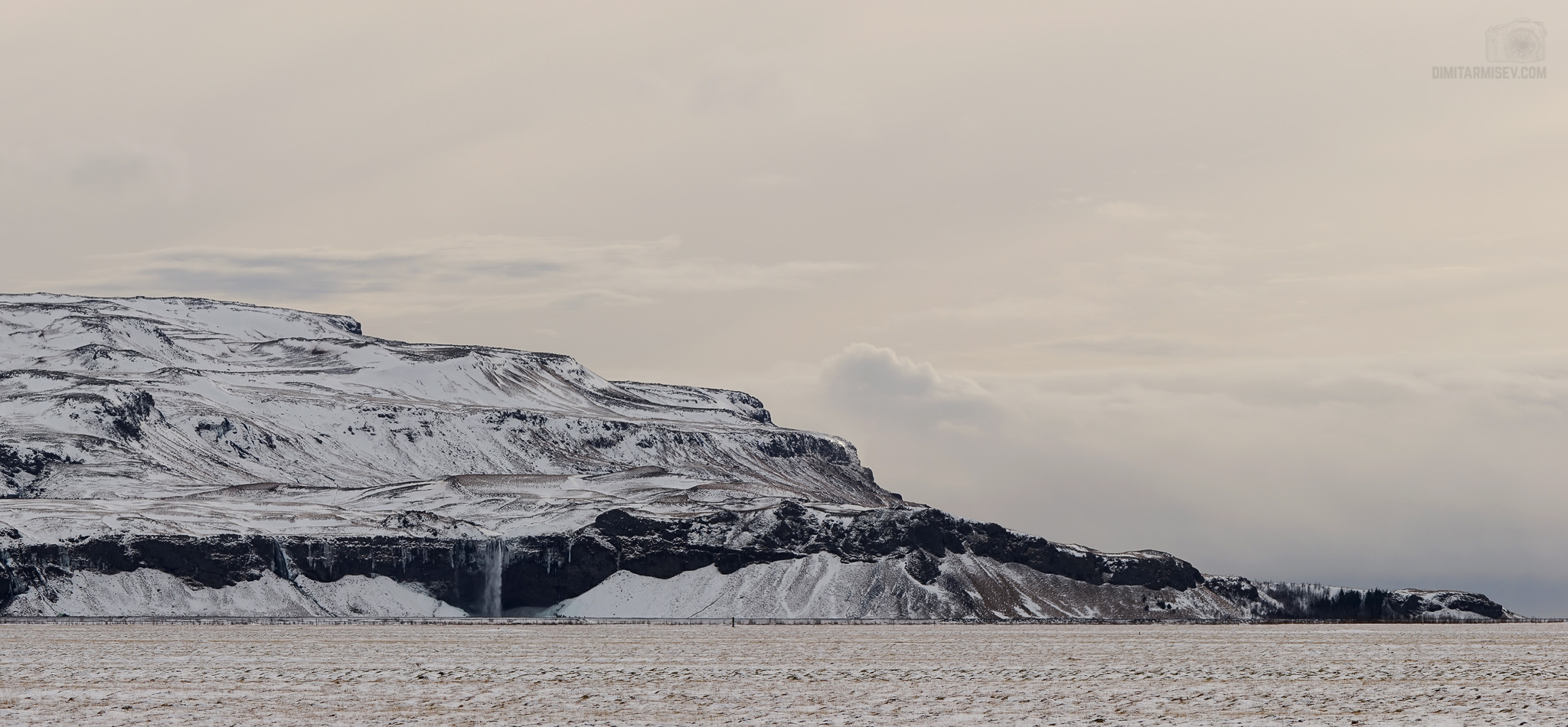 The first night was a bad experience, but it was much better weather now and we even got to explore a bit around the waterfall. It wasn't a bad idea to come back on this road.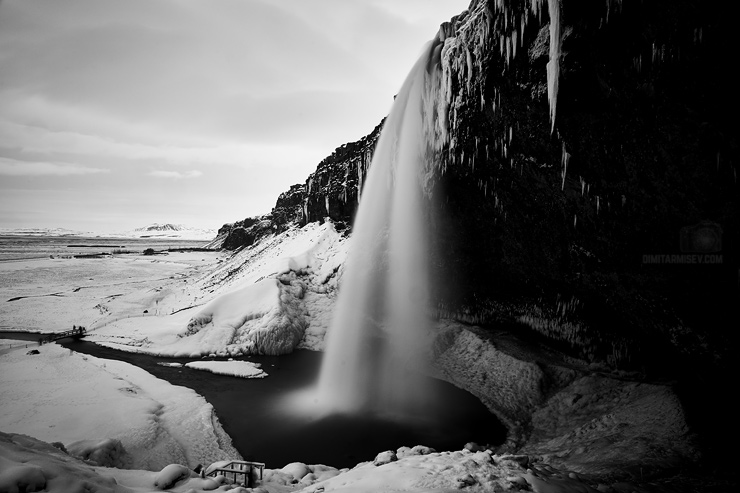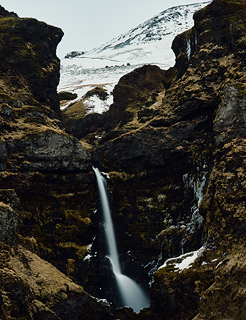 The plan then was to go to Seljavallalaug which we missed to visit the first time. This is an ancient outdoor pool that somebody built into the mountain rocks, where it gets filled with hot water straight from mountain springs coming down the rocks.
On the way we noticed a small waterfall in the distance and decided to take a side road to check it out. Somehow we both made an error in getting to the waterfall, and we ended up at a pretty big canyon instead, where we were fully convinced the waterfall must be. We hiked up the canyon quite a bit, searching for the waterfall, not realizing we are off on the road by something like 1-2km :)) So we gave up and decided it must be further down the road. And lo and behold, quick drive later the waterfall showed up. It was surrounded by a fence though so you couldn't even get nearby it; quite disappointing. Apparently someone in Iceland simply has his own private waterfall.
Anyway, back to Seljavallalaug. As we were walking towards the pool (it was a 1-2km walk), the motivation to have a swim was going down. The sun was hidden in the clouds and looked more like the moon, and it was getting pretty damn cold; not very inviting to take your clothes off. Some guys we met on the way were enthusiastic about it and said it was awesome. Except the part where you get out of it at the end.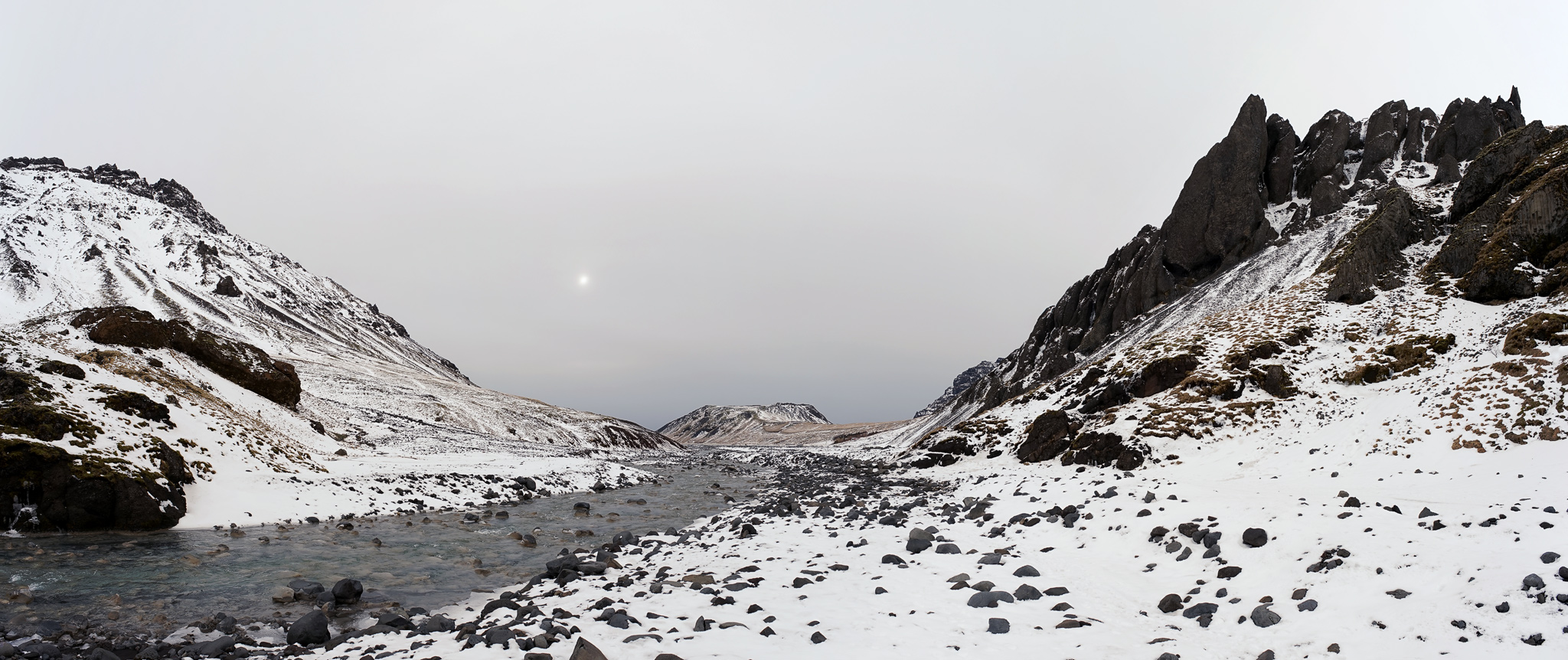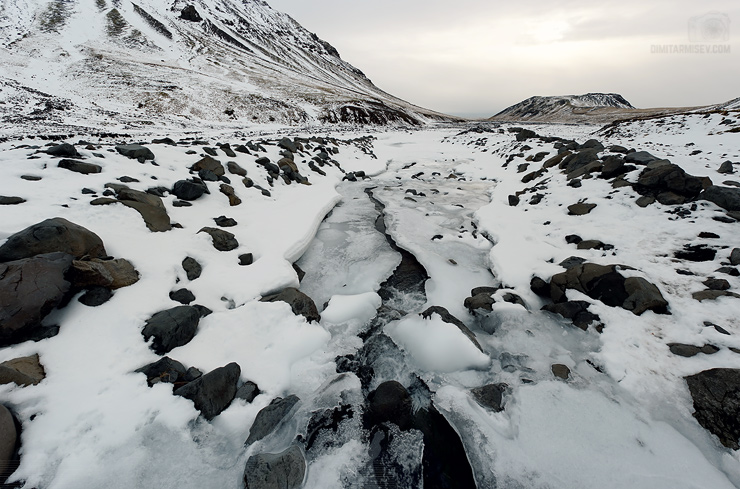 I was thinking of this tradition in Macedonia (and probably other countries), where people jump to catch a cross into rivers, lakes or pools on 19th of January. In English this holiday seems to be called Epiphany. At least this pool is filled with hot water, or so I thought.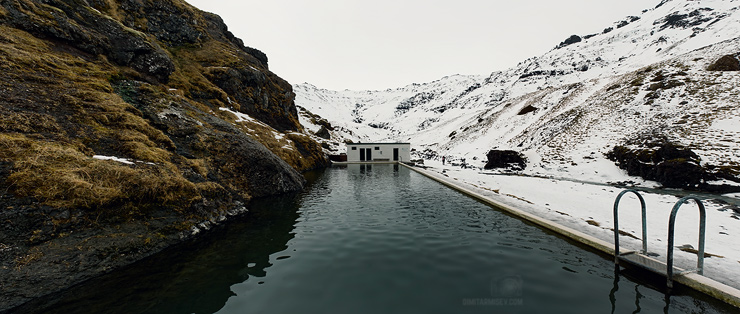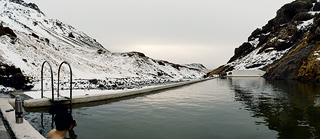 The changing rooms were filled with snow :)) But there was no going back now. The first step into the pool revealed it's not nearly as warm as we expected.. borderline survivable. Soon I discovered that at the other end it gets warmer though, it seemed to be the spot where the hot stream from the mountain slowly trickles in, so eventually it was ok. Soon some more guys showed up and jumped in as well.

Getting out and dressing up was actually the most enjoyable part for me, that was properly refreshing haha :)) Quite a different experience from the guys we met on the way. On the way back we stopped to take a look at a truck that seems to have been abandoned for a long time. There is plenty of randomly abandoned stuff like this around Iceland.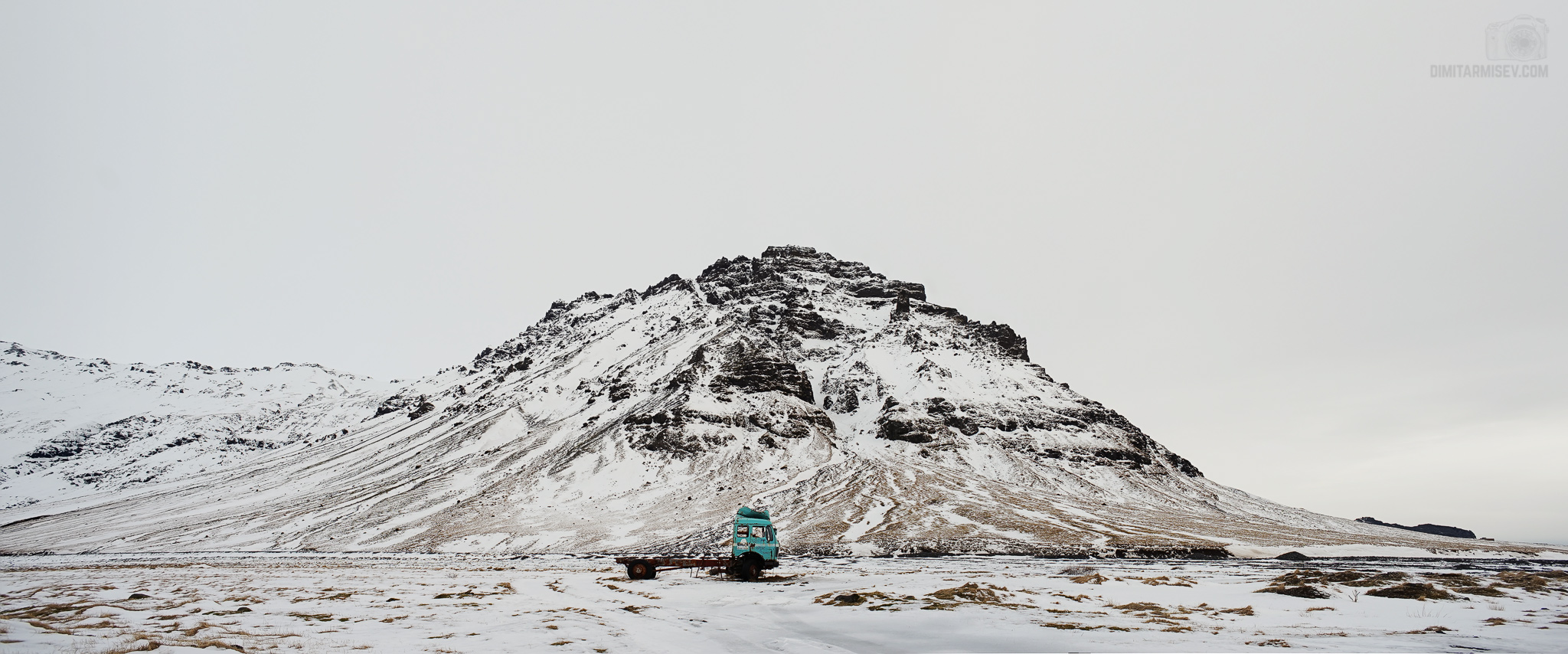 Last stop on the way to Vik: Skogafoss. We were hoping to get a different more interesting view at it, but ultimately failed. Anyway I like the typical zoomed in shot you can get here, it's quite epic. Only after I looked at the photo itself I noticed that there was some sort of a photoshoot going on near the waterfall.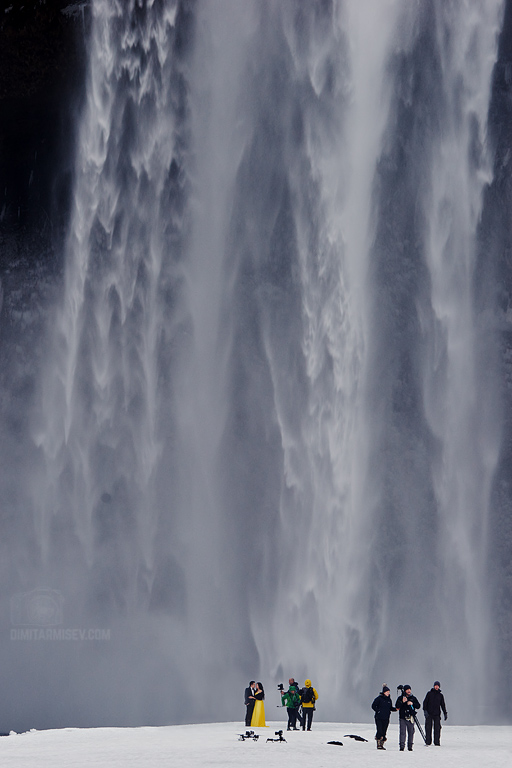 The evening was quite relaxing. We decided to stay at the same place in Vik, as the tent wasn't dry yet. In the supermarket we tried to find a proper beer, but it seemed like all are 2.25% alcohol beers. Someone approached us and even said, hey that's not proper beer, you can get real one at a special store. Which has already closed for today of course.. at 18:00. So we just went with a random one, which turned out to be quite ok actually.
Back in the hostel we made friends with a couple from Ireland that were traveling around Iceland in a camper van. Well not a van but a pick-up car which was equipped with mattresses for sleeping. Anyway, unlike us they seemed properly stocked on Corona beer and they were nice to share a few bottles. Well that was gone very quickly, and then the Irish guy quietly disappeared for a second, only to come back with a bottle of Jack Daniels and Sprite. Mixing these as I learned get you a "7 and 7".
By the time we decided to call it a night, there was barely anything left haha. Which made it difficult to decide about tomorrow: we were kind of planning to go on a hike above the Vik church before sunrise, which seemed a tough goal after a late night like this. So now it was time to decide when should we go -- somehow we settled down on 8 am.
Day 9: Vik - Reykjavik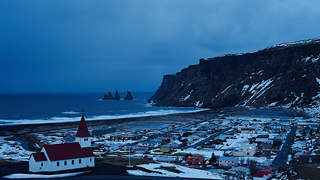 It was time to go back to Reykjavik today. But not without some adventure first. The last thing I wanted to do was go out of bed so early and climb a mountain. But somehow we found the motivation, despite the crappy weather and short sleep, and sure enough we were out by 8 am.
The weather sucked but eventually we started going up from the church. Quickly the deep snow and the really steep slope tired me quite a bit.. As we reached the ridge the wind suddenly picked up and was blowing sharp snow/ice into us. We pushed up for the local peak, from where we did a couple of "selfies" and panoramas.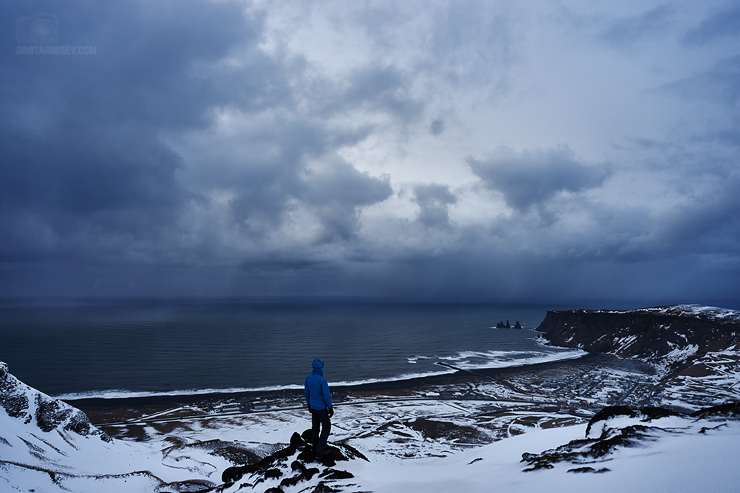 You can see in this photo from Day 3 on how this place looked like from below. Notice the storm raging nearby Vik's coast. The wind was blowing away towards the storm though so we thought it is unlikely to come this way. Descent was very quick, as it turned out the snow was really wet and slippery by now, and essentially we ended up skiing just with our shoes all the way downhill. Quite a fun way to go down a mountain.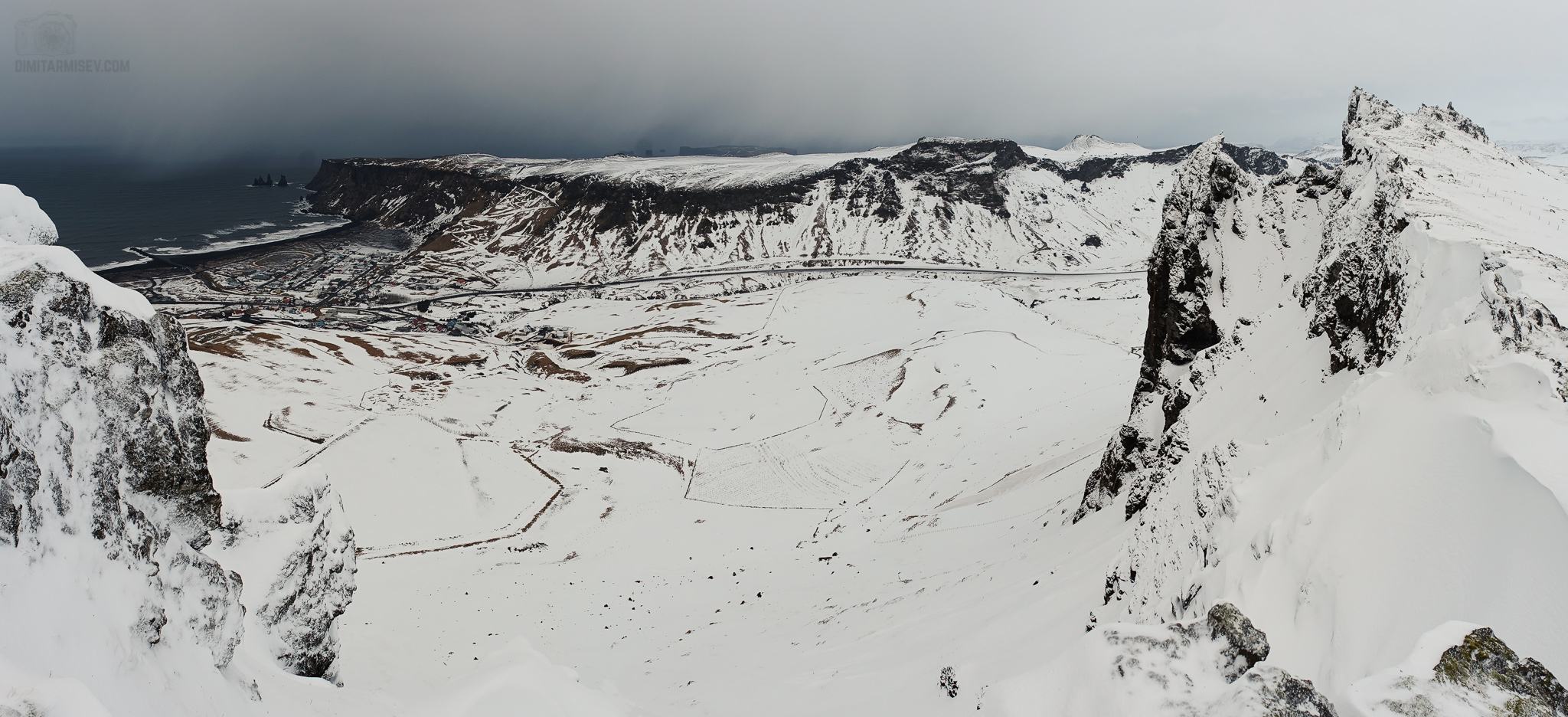 By around 10am we were back to the hostel and came across the Irish guys who were already packing their pickup camper. With wet shoes and gloves (and ass from falling while "skiing" down the mountain), I just couldn't wait to get in the shower. The hostel owner lady was very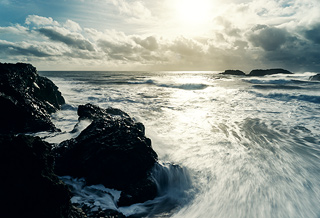 nice, even though we were late and still hanging around 1-2 hours after check out. We had breakfast, some online time, said goodbye to the Irish friends and took off towards Reykjavik.
On the way we really wanted to get to the Dyrhólaey arch from beach level, but eventually gave up after quite some searching for a possible entry to the beach. It just didn't seem possible when there's always either fence or water separating the road and the beach. So we just went along where all the tourists go, and spent a lot of time actually photographing the waves.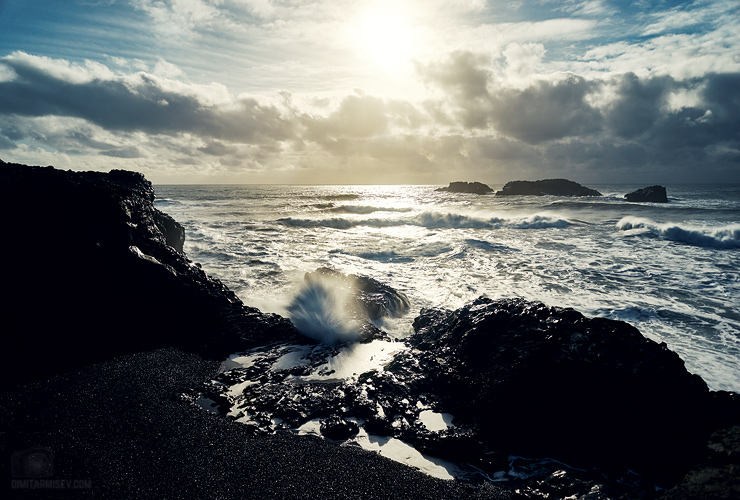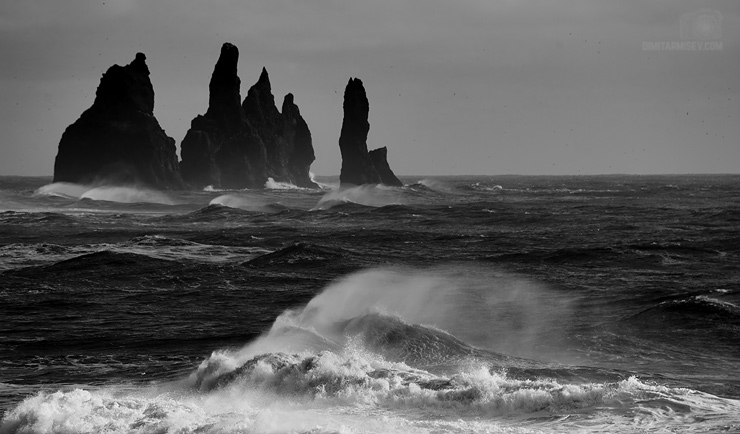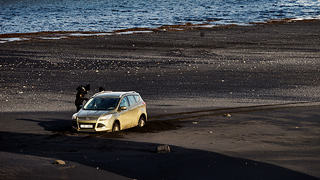 The main attraction at this place for today (really shouldn't laugh though..) was a Chinese couple that decided to just drive on the black sand beach and managed to bury their car in the sand. Not sure what were they thinking, when not even by walking was anyone going there. Everyone else was up on the rocks with no way to get down and help them in any case. I hope they managed to get out, although it seemed very unlikely it would be possible without additional help.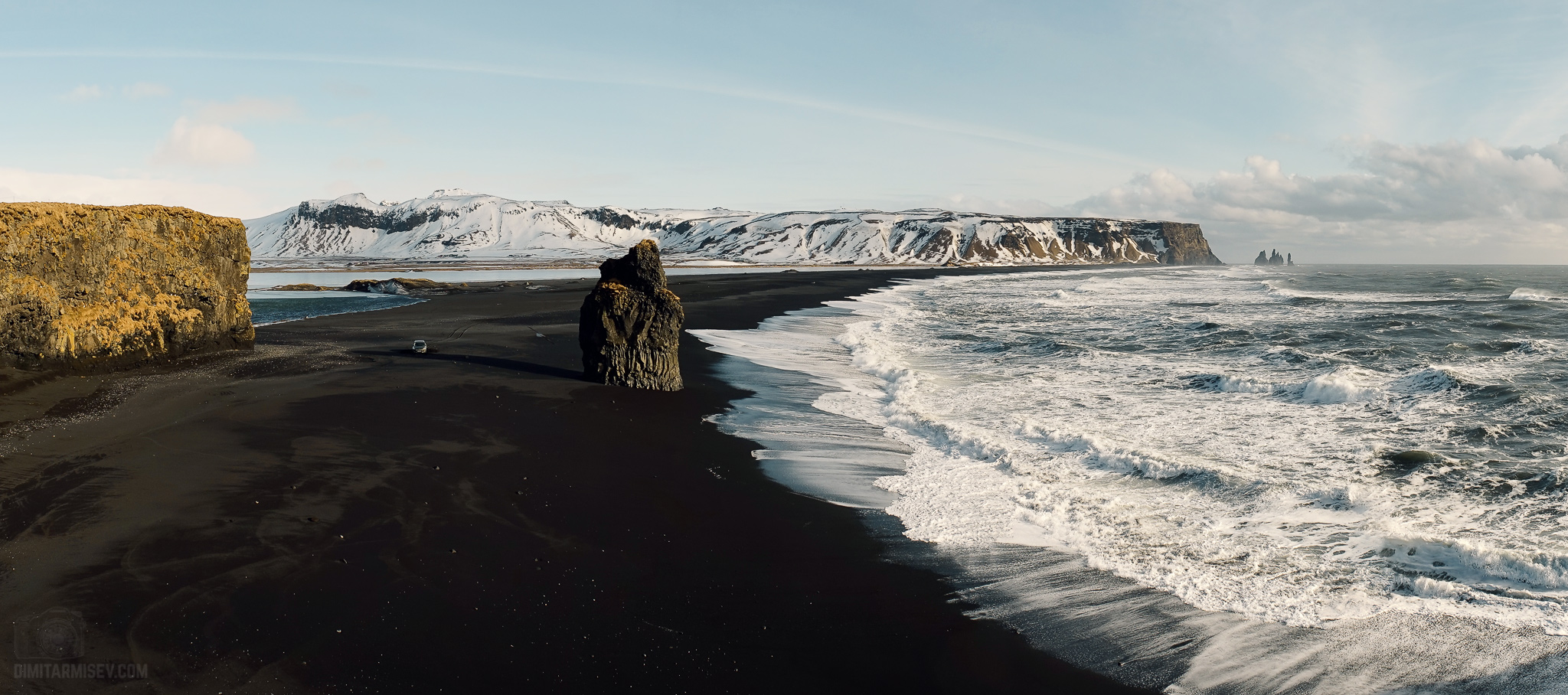 The sun was shining the whole day, a welcome change from previous days. There were some cute and friendly horses on the way. Some were shy and going away as we would approach them, others were curious and didn't mind some petting.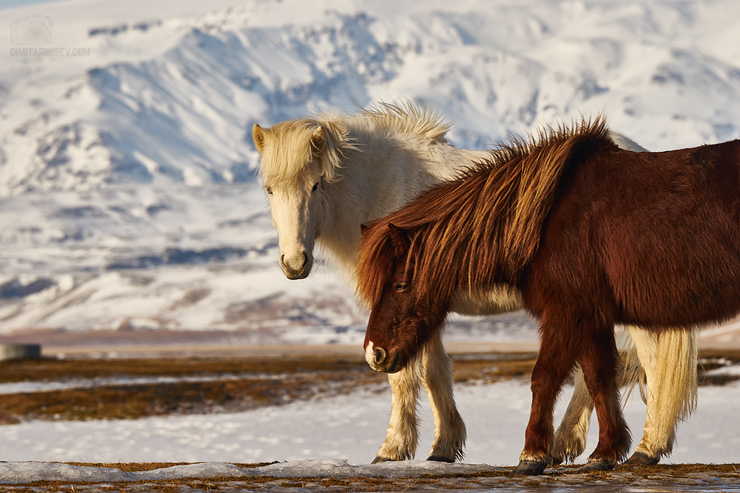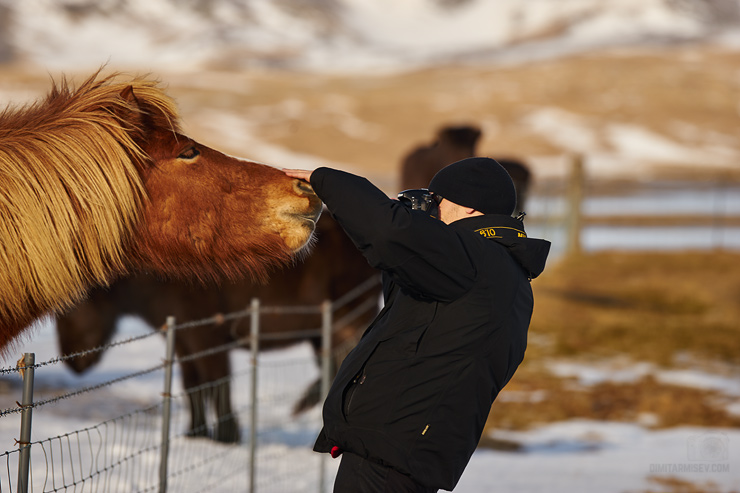 At the port for the Vestmannaeyjar island we stopped for lunch, and from then on it was a relatively boring and sleepy drive to Reykjavik, aside of this weird house half built into the rocks.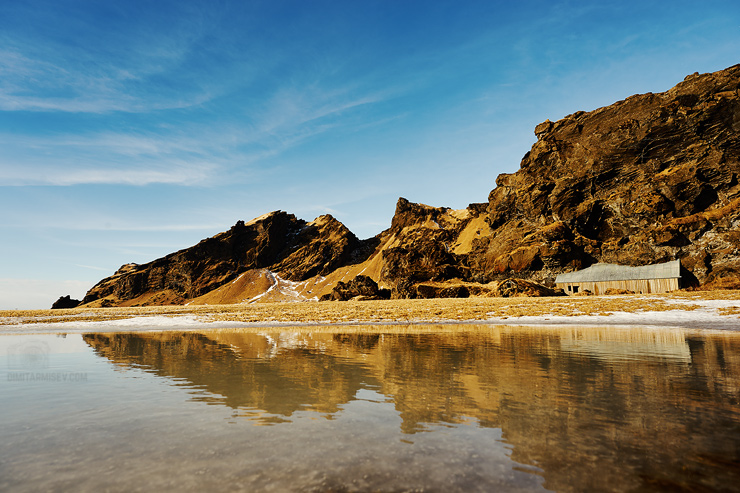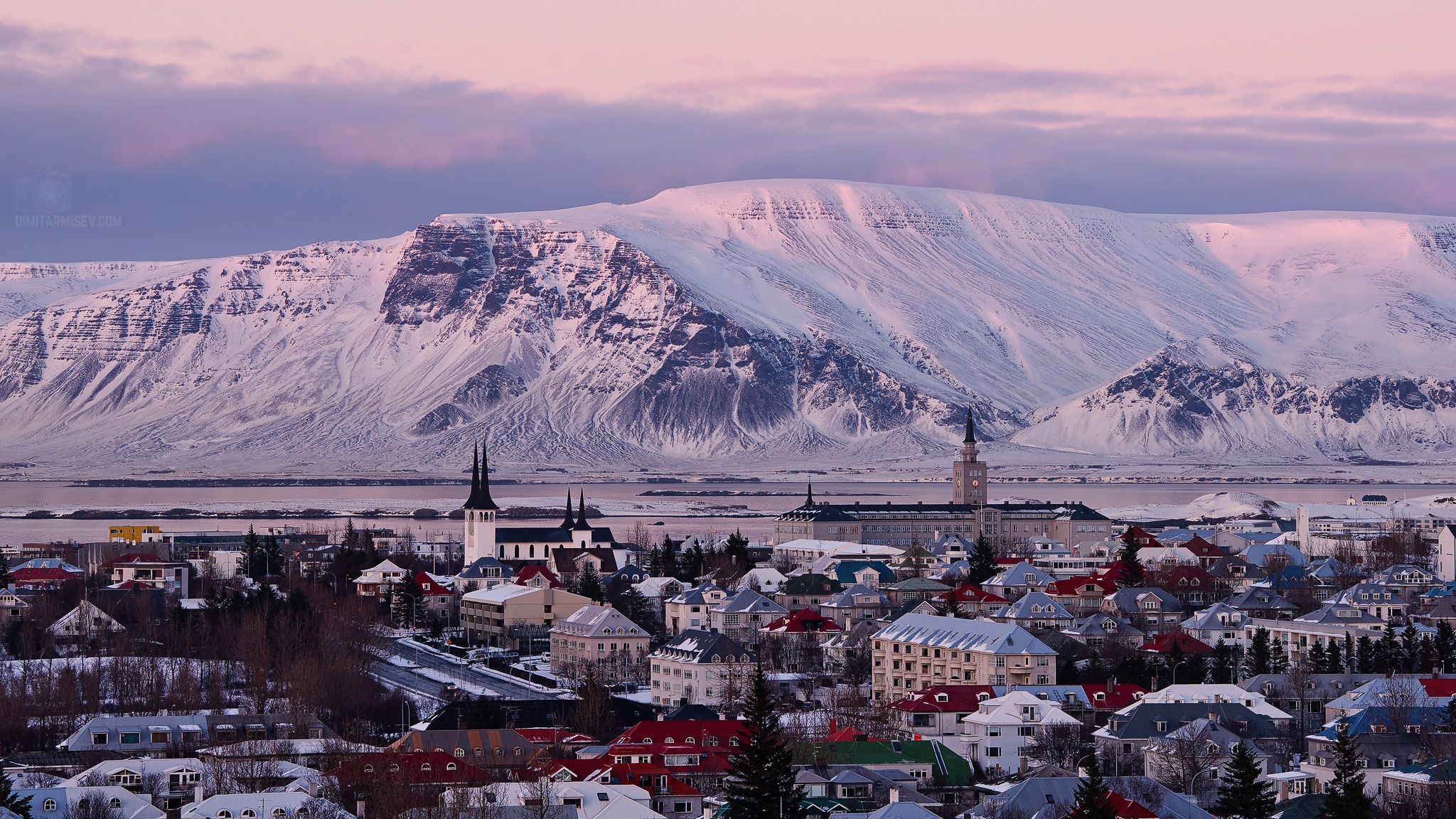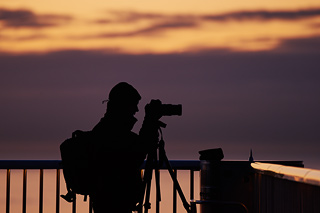 In Reykjavik we headed towards Perlan, as a good spot to photograph the city from. The sunset was just spectacular, with beautiful colors and I just couldn't get enough of it. I was having some idea of photographing the same frame at daylight before sunset, and after sunset in the night, and then merging these in some creative way into a single shot. But I just couldn't make myself go through with it.. locking my camera at the same spot for two-three hours was boring as hell. At this point what I really needed was a second camera :) There were two more photographers here that just had their cameras on tripods while not actively taking any photos themselves; I was guessing they are doing a timelapse.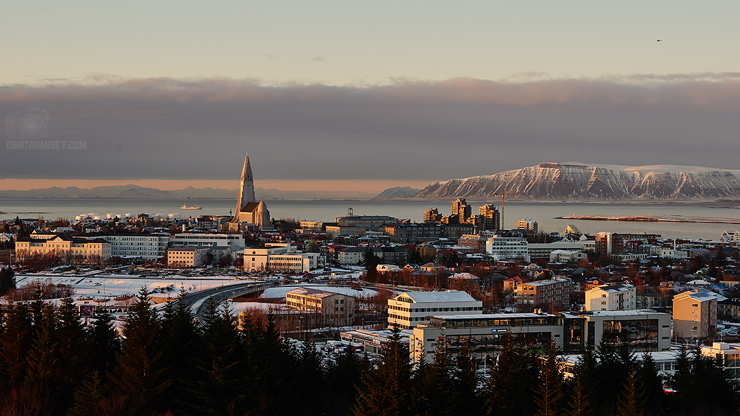 The views from Perlan were perfect, you could see the whole city from here, including a small airport within Reykjavik. The photo at the top of this article was actually taken here, as well as the one on the right. As darkness fell upon the city it slowly started lighting up; a couple of buildings were lit in red, I believe they were some government buildings. In the end we spent more than two hours here and were the last to go out, persuaded finally by the freezing cold and dying batteries.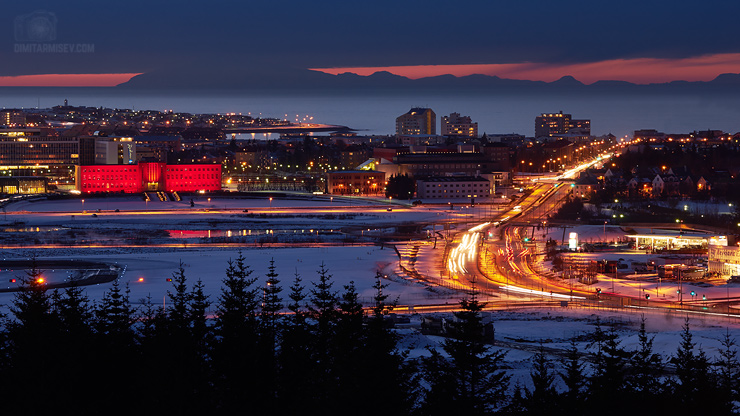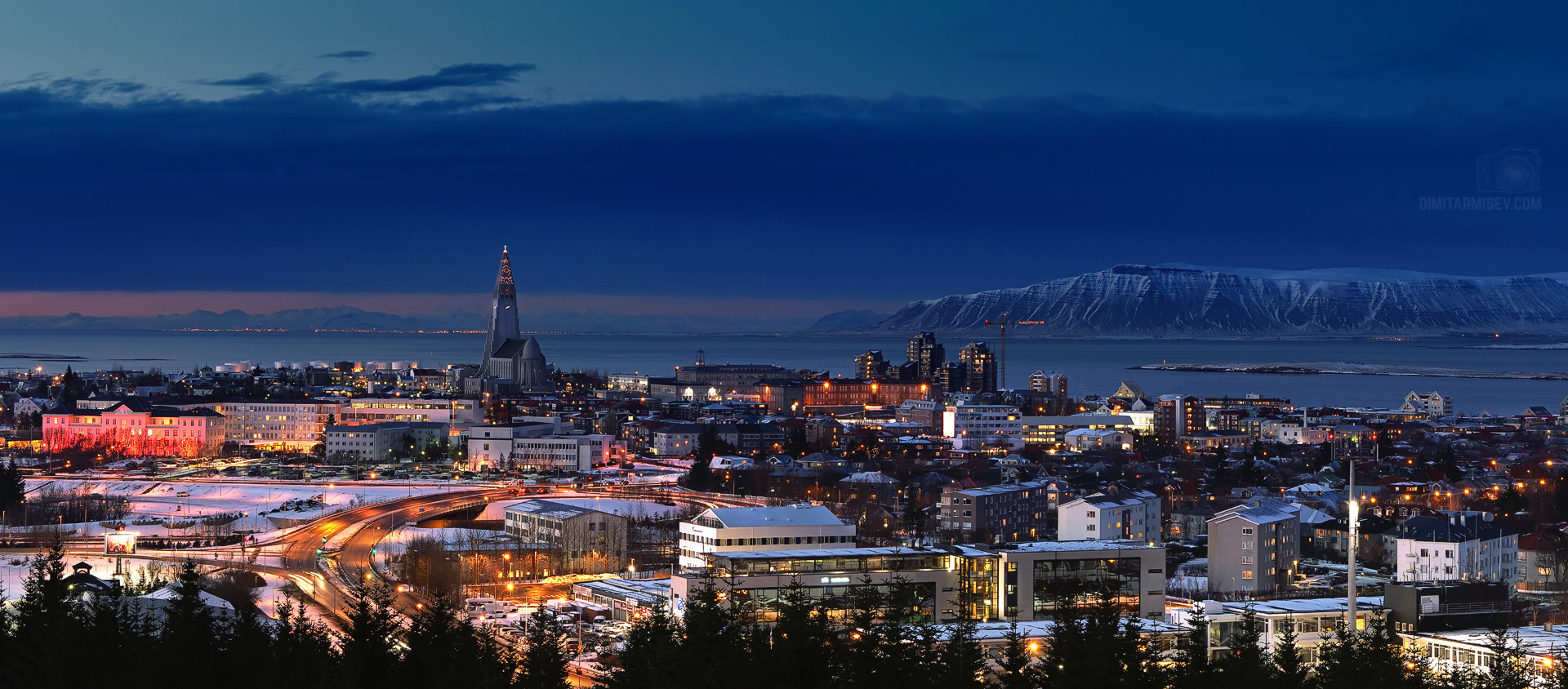 In search of a camping place, we ended up in Lava hostel, which was closed until May as it turned out. The owner who was there let us camping anyway, after warning us a dozen times that there is a lot of snow on the campground. The ground was so frozen that the small stakes and the small stone that we carried around were not quite up for the job to secure the tent properly, but seeing that there was no wind whatsoever we pitched it anyway barely standing up.
Day 10: Reykjavik - Keflavik
This was the last day effectively, the next day we had the flight. Sightseeing in Reykjavik didn't work very well haha, we didn't explore much beyond the famous church Hallgrimskirkja.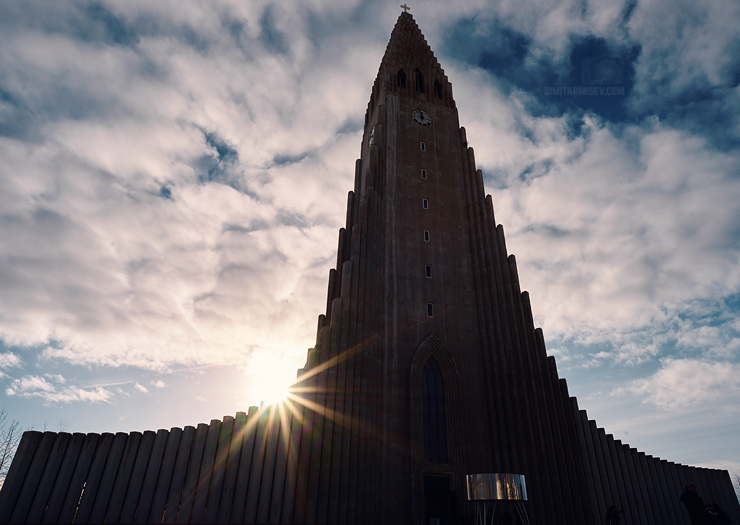 So already around noon we decided to go towards Keflavik and check in at the random guesthouse we found online. It turned out it's actually brand new and we were the third guests ever :)
For the evening we were supposed to go to the famous Blue Lagoon near Keflavik. If you visit Iceland and plan to go here, make sure to book online in advance; we did this on advice of the Irish friends we met in Vik, who visited the place already. Even booking a few days ahead as we did it was already booked out except the last two hours in the evening.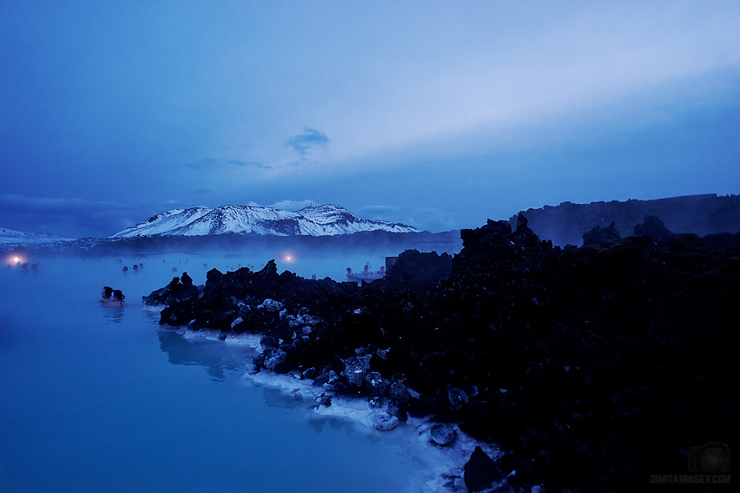 It wasn't very funny that when we arrived there it turned out that our tickets were for the previous day actually. I have mixed up the dates (it's not the first time..). The guys there were nice though and somehow it worked out to still go in :) In the end the Blue Lagoon was a really awesome place, definitely worth the price; perfect way to conclude the journey.
Published on March 11th, 2016 by Dimitar Mišev